With most of sports world shut down, central Pennsylvania dirt tracks go on as scheduled
STEVE HEISER
717-505-5446/@ydsports
Lincoln and Port Royal speedways held dirt-track racing programs on Saturday.
Alan Krimes won the Lincoln 410 sprint race. Lance Dewease won at Port Royal.
Williams Grove Speedway is still scheduled to race at 2 p.m. Sunday afternoon.
While the vast majority of the sports world has shut down because of the coronavirus outbreak, local dirt-track officials have decided to continue on.
Lincoln and Port Royal speedways held their programs as scheduled on Saturday and the season-opening program at Williams Grove Speedway was held Sunday.
The decision was supported by the many fans and drivers who showed up over the weekend.
"It doesn't really scare me much, or obviously anybody else that's here, but, I mean, yeah, it's unfortunate what's going on, but it's just great to at least have something going on," said Dillsburg sprint driver Anthony Macri. "I mean everything else is shut down, so it's nice to get out of the house and at least do something."
That sentiment was shared by York racing fan T.W. Drum. 
"It's weird, but it's great that we can still come out and enjoy something that's not in the house," Drum said. 
Indiana driver Cale Thomas, who has relocated to Spring Grove to race locally, was happy to see the tracks racing, although he said he would've also supported the tracks if they had opted not to run.
"It's pretty cool to see the fans and the tracks come together and support local sprint car racing," Thomas said. "There's a lot of stuff going in the world right now that's a little scary and a little crazy, but I feel like you choose to be here if you want to be here. We live in a free country and luckily we're allowed to come out here and do that."
Car counts were down on Saturday at both Lincoln and Port Royal. The car count at Lincoln included 24 410 sprint cars and 38 Legends cars. The first three sprint programs at Lincoln this year had sprint counts of 30, 31 and 31.
Port Royal had car counts of 33 sprint cars and 29 super late models on Saturday. The week before, in its season opener, Port Royal had 45 sprint cars on hand. The Grove had 32 sprint cars.
"Thank you Lincoln Speedway, @PortRoyalSpdway and @WilliamsGrove for allowing us the freedom to make a choice to attend or not this weekend," York driver Glenndon Forsythe said on his Twitter site.
Macedo triumphs at Grove: Calling it the "biggest win of my career," Outlaws driver Carson Macedo raced to the opening-day win at the Grove on Sunday.
Macedo, who drives a car owned by NASCAR star Kyle Larson, collected $4,080 for his first career Grove victory.
Macedo was one of two drivers who made the long tow to the Grove after the Outlaws canceled their weekend races in Texas. Local Outlaw Brent Marks was the other. The Outlaws have halted action through April 9.
Ryan Smith grabbed the early race lead at the Grove from his pole starting position, outgunning fellow front-row starter Freddie Rahmer at the green flag. Macedo, who started third, actually slipped to fourth early on as Danny Dietrich made a charge from the seventh position to second early in the 25-lap race. Smith damaged his front wing and began to fall into the clutches of his challengers. Macedo worked by Rahmer and Dietrich for second.
Macedo took the lead from Smith on the 17th lap and went on to score the win over Dietrich. Lance Dewease drove forward from the 14th starting spot to finish third, with Marks coming from 13th to fourth. Smith rounded out the top five. Completing the first 10 were Rahmer, Gerard McIntyre Jr., Brian Montieth, Macri and Rick Lafferty.
Krimes wins at Lincoln: Alan Krimes became Lincoln's fourth 410 sprint winner in as many races this year on Saturday afternoon. 
Krimes collected $3,500 for his victory.
Thomas started from the pole position and raced into the early lead. He held the top spot until he brushed the wall trying to avoid a flipping racer on the ninth lap.
Thomas headed pitside for a new right rear tire and turned the lead over to fourth-starter Jim Siegel, who led until he was passed by sixth-starter Ryan Smith on the 19th lap. Smith, however, suffered mechanical problems and crashed on the 21st lap, turning the lead over to Krimes, who had started seventh. 
Krimes went on to score the win over Siegel, with Freddie Rahmer coming from ninth for third. Brandon Rahmer finished fourth after starting 13th and defending track champion Brian Montieth finished fifth.
Rounding out the top 10 were York's Adam Wilt, Billy Dietrich, Scott Fisher, Dover's Chad Trout and Tyler Walton, who advanced from 20th and was the race's biggest mover.
North Carolina driver Joe Ryan Osborne made the most of his second-ever, dirt-track start, winning the 20-lap Legends feature. Osborne advanced from sixth to become the race's fourth different leader on the 12th lap. Brian Racine, Craley's Bill Diehl, Zachary Settle and Chris Transeau completed the top five.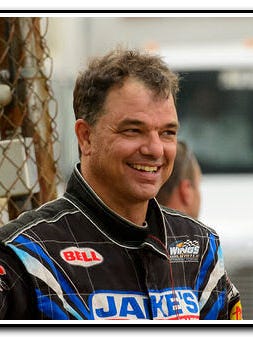 Dewease triumphs at Port Royal: Dewease led all 25 laps from his pole starting spot to win the 410 sprint event at Port Royal early Saturday evening.
Dewease collected $3,600 for his 113th career Port victory.
Logan Wagner finished second, 7.584 seconds behind Dewease, while Danny Dietrich was third. Lucas Wolfe and Mike Wagner completed the top five.
Rounding out the top 10 were Brock Zearfoss, Jeff Halligan, Marks, Blane Heimbach and Kody Lehman.
Donnie Lingo won the late-model feature over Ross Robinson, Trevor Feathers, Mike Lupfer and Tim Smith.
Reach Steve Heiser at sheiser@yorkdispatch.com. Bryan Householder and John Pavoncello contributed to this report.