Lance Dewease earns emotional triumph, $56,000 at Williams Grove Speedway National Open
BRYAN HOUSEHOLDER
717-505-5403/@ydsports
Lance Dewease won the Williams Grove Speedway National Open on Saturday night.
Dewease earned $56,000 for his fourth triumph in the National Open.
Daryn Pittman finished second, followed by Brian Montieth taking third place.
Lance Dewease raced to his fourth Williams Grove Speedway National Open triumph on Saturday night.
This victory, however, was the most emotional of Dewease's long and successful career.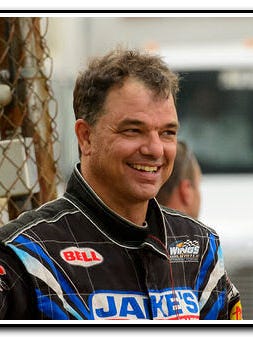 "This is the greatest one of them all. Everybody don't know how hard it was on me this week," he said of enduring the recent death of friend and competitor Greg Hodnett. "This is all about Greg. He was a great racer. Off the racetrack he was a better person than that."
Hodnett died after a racing accident on Thursday, Sept. 20, at BAPS Motor Speedway.
Dewease collected $56,000 for his 11th overall win of the season. It was Dewease's fourth title in the event for as many car owners, with previous wins coming for Walt Dyer in 1996, Joe Harz in 2001 and for Al Hamilton in 2002.
The 2018 victory came for car owner Donald Kreitz Jr. It was Kreitz's second overall win in the race, with his first coming as an owner/driver in 1993.
Greg Hodnett: Sprint car racer killed on Newberry Twp. track a 'true professional'
Brock Zearfoss outgunned Dewease at the start of the 40-lap event, and held the top spot until the 24th lap when Dewease was able to slip by. Once in front Dewease pulled to a sizable margin, while Zearfoss eventully crashed out of the event.
HOUSEHOLDER: Hodnett's death will leave void
In the end, Daryn Pittman chased Dewease to the line. For Pittman, it was the fourth time he has finished second in an event he has never won.
Brian Montieth rode home third, with Tim Shaffer and Ryan Smith in the top five. Rounding out the top 10 were Brian Brown, T.J. Stutts, Paul McMahan, Shane Stewart and Hanover's Logan Schuchart.
Teen wins Friday: Giovanni Scelzi raced to his first Williams Grove win on Friday evening in the World of Outlaws-sanctioned Night Before the National Open event.
The 16-year-old California native collected $10,000 for his victory.
Scelzi started second and chased pole-sitter David Gravel for the first 15 laps of the race that was contested over 27 laps in honor of Hodnett.
Scelzi got by Gravel on the 16th circuit and went on to score the win over Gravel, with Lucas Wolfe in third. Freddie Rahmer and Stewart completed the top five.
Rounding out the top 10 were Trey Starks, Montieth, Brad Sweet, Brown and Donny Schatz.
Reach Bryan Householder at sports@yorkdispatch.com.