Lance Dewease makes Williams Grove Speedway history with record 91st victory at track
STAFF REPORT
Lance Dewease won the World of Outlaws sprint car feature at Williams Grove Speedway on Friday.
Dewease became the all-time winningest sprint car driver in Grove history with his 91st triumph.
Dewease earned $13,000 for his Morgan Cup victory.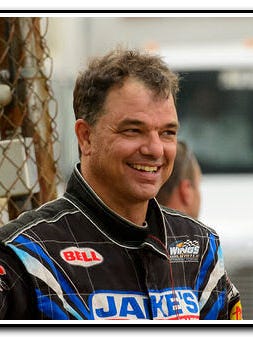 Lance Dewease made Williams Grove Speedway history in the biggest and best way on Friday night by driving by nine-time World of Outlaws champion Donny Schatz in the Summer Nationals to become the winningest sprint car driver of all-time at the historic oval.

Dewease's win mark now stands at 91 atop the track's all-time win list.

He took his first victory at the speedway on July 10, 1992.

Dewease started fourth in the 25-lap World of Outlaws feature and drove into third on the opening lap while polesitter Schatz took the lead over Lucas Wolfe.

Only three circuits could be recorded before the first of several caution flags unfurled on the field.

Dewease got by Wolfe for second on the double-file restart and began trying to keep time with Schatz.

However he was only able to keep Schatz from slipping away over the ensuing laps as opposed to catching him and the frontrunners hit lapped traffic with 11 laps completed.

Another caution flag bunched the field and wiped out a near one-second lead held by Schatz and Dewease made an attempt when action resumed in double file style but the start was called back for a turn one tangle.

The ensuing restart was then single file and Dewease made a low side swoop in the first corner when action got restarted only to see Schatz ride the cushion back around and get away onto the backchute.

Just one lap was again completed before another yellow flag again slowed the field and forced a double file restart.

And again Dewease tried to sneak underneath but no dice.

Another one lap in the books and another caution on the 18th circuit bunched the field for what would be the final time and this time, after Dewease had been showing himself to the leader on the inside of the first and second turns previously, Schatz took the lane away.

And while Schatz motored low, Dewease rolled the top in turns one and two and was content to follow Schatz down the backstretch and also through turns three and four, building a full head of steam as the duo headed for the completion of lap 19.

Then with that full head of steam, Dewease broke off of Schatz's tail as the pair set their cars into the first corner and made a low side swoop that ended with a slide job up to the second turn cushion, just ahead of Schatz's No. 15.

Schatz had to hit the binders to avoid contact but was glued to Dewease's tail as the pair raced underneath the backstretch bridge and then Dewease thumped through the third corner across the middle lane and caught the cushion in the fourth corner to drive off with control with five laps to go.

Frontstretch fans stood, waving and cheering for the final two circuits of the momentous event, routing Dewease on to the historic victory, which he took by 1.201 seconds over Schatz.

The win was worth $13,000 for the Fayetteville driver, which included laurels as the Morgan Cup winner.

"It feels great just to be in victory lane, to beat Schatz," Dewease said.

"One of the reasons I'm at the top (of the win list) is because I raced against the guy that was ahead (Fred Rahmer)."

"And he's one tough son-of-a-bitch around all these places," Dewease said about overtaking Rahmer atop the Williams Grove all-time sprint car win list with the outlaws victory at hand.

To chants of Posse!, Posse!, Dewease spoke about passing Schatz.

"He's one of the best that I ever seen race one of these things," he said.

And Schatz returned the favor moments later, saying that he must be doing something right if he's racing with Dewease when he's at Williams Grove.

"It's fun to race like that," Schatz said.

Dewease's car owner, Don Kreitz Jr., spoke about his driver snagging the momentous win.

"Lance continues to surprise us and amaze us. I just never figured he'd get Schatz," Kreitz said.

Fast timer on the night, Brian Montieth rode home third followed by Greg Hodnett and Logan Schuchart.

Sixth through 10th went to Wolfe, David Gravel, Brad Sweet, Daryn Pittman and Shane Stewart.

Heats for the 31-car field went to Trey Starks, Dewease and Hodnett with Cory Haas taking the B Main.

Schatz earned the pole for the feature by winning the dash.

Montieth set fast time with a lap of 16.666 seconds.

Feature finish, 25 laps: 1. Lance Dewease, 2. Donny Schatz, 3. Brian Montieth, 4. Greg Hodnett, 5. Logan Schuchart, 6. Lucas Wolfe, 7. David Gravel, 8. Brad Sweet, 9. Daryn Pittman, 10. Shane Stewart, 11. James McFadden, 12. Steve Buckwalter, 13. Danny Dietrich, 14. Brent Marks, 15. Kraig Kinser, 16. Jim Siegel, 17. Robbie Kendall, 18. Anthony Macri, 19. Jason Sides, 20. Trey Starks, 21. Ian Madsen, 22. Jacob Allen, 23. Sheldon Haudenschild, 24. Cory Haas, 25. Brock Zearfoss

DNQ: Troy Fraker, Jay Galloway, Nicole Bower, Greg Wilson, Alan Krimes, Freddie Rahmer

Information for this story was provided by Williams Grove Speedway.