Lance Dewease wins season finale at Susquehanna, Danny Dietrich holds on to overall title
BRYAN HOUSEHOLDER
505-5403/@ydsports
Lance Dewease won the local racing season finale at Susquehanna Speedway.
Danny Dietrich crashed out on lap four, but still won the overall season sprint crown by one point.
Joey Saldana finished second at Susquehanna, while Lucas Wolfe was third.
Lance Dewease closed out the local racing season with a win in the Final Showdown at Susquehanna Speedway on Saturday, Oct. 28.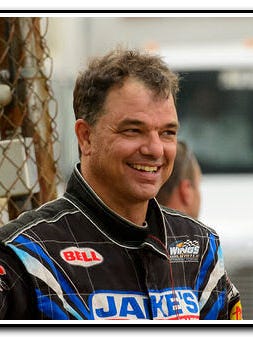 Dewease's 12th overall win of the season was worth $5,000.
Hanover's Logan Schuchart grabbed the early lead in the 30-lap race from his pole starting position, as Dewease worked forward from the sixth starting spot. While racing hard for positions inside the top five on lap four, Danny Dietrich and Spring Grove's Greg Hodnett tangled, collecting Freddie Rahmer and York's Cory Haas. Only Haas was able to continue.
Dietrich entered the race leading the Champion Oil/ BR Motorsports Central Pennsylvania Sprint Series point standings, and was in danger of losing the lead. His main challenger, Lucas Wolfe, was running second at the time. Wolfe needed to finish in the top two to take the point title away from Dietrich.
After the restart, Dewease moved forward, and on the 11th lap, he grabbed the lead from Schuchart on the front stretch. Entering the third turn on the next lap, Schuchart tried to regain the lead and he and Dewease tangled. Despite suffering nose wing damage, Dewease was able to continue, while Schuchart needed a brief stop for repairs.
Dewease then led the remainder of the race, besting invader Joey Saldana for the win.
Wolfe finished third, and lost the overall point title to Dietrich by a single point. Brock Zearfoss and Brian Montieth completed the top five.
Mark Smith was the race's Hard Charger, moving from 18th at the start to sixth. Dillsburg's Anthony Macri was seventh, with Haas rebounding for eighth. Brandon Rahmer was ninth, and Schuchart got back to 10th with a last-lap pass of Gerard McIntyre Jr.
In the 25-lap 358 sprint feature, York's Chase Dietz scored the win. Dietz passed Dave Brown for the lead on the third lap and then had to fend off Kevin Nouse most of the way. Nouse made a bid on the final turn, but slipped high, allowing Brent Shearer to get by for second. Nouse, Dillsburg's Chris Frank and Brett Wanner completed the top five.  Rounding out the top 10 were Hard Charger Cody Fletcher, Tyler Ross, Mike Bittinger, Hanover's Troy Wagaman Jr. and Brown.
Reach Bryan Householder at sports@yorkdispatch.com.