DIRT-TRACK RACING: Lance Dewease earns $20,000 win in Dirt Classic at Lincoln Speedway
BRYAN HOUSEHOLDER
505-5403/@ydsports
Lance Dewease took the $20,000 top prize at Lincoln Speedway's Dirt Classic on Saturday.
During the September "Month of Money," Dewease has now earned more than $78,000.
Spring Grove's Greg Hodnett led all 25 laps to win Williams Grove's Outlaw Tune Up on Friday.
Lance Dewease continued his lucrative march on the "Month of Money" with a $20,000 win in the Dirt Classic at Lincoln Speedway on Saturday night, Sept. 23.
The win at Lincoln pushed Dewease's earnings for September to more than $78,000.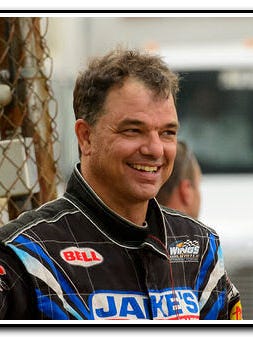 Pole-sitter Brian Montieth took the early race lead in the 40-lap event and held sway until the 11th lap, when he bounced off the fourth-turn fence while negotiating lapped traffic. Montieth's bobble allowed second-place starter Gerard McIntyre Jr. to take over the top spot. While Montieth slipped to second, he got right back into the battle and regained the lead on the  16th lap. He stayed there until his right rear tire went flat on the 27th lap. As Montieth slowed with the deflating tire, Dewease, who started eighth,  was able to get by McIntyre, for the lead. 
Montieth was able to get off the track without stopping and the race continued with Dewease in front to stay.  In the closing stages of the event following a flat-tire caution for third-place-running Freddie Rahmer, 15th-starter Danny Dietrich closed on Dewease, but was unable to make a move for the lead. Dietrich finished second, with Lucas Wolfe in third. McIntyre and James McFadden completed the top five. J.J. Grasso picked up a $500 bonus from the Beer Hill Gang as the race's hard charger for his run from 20th to sixth.  Rounding out the top 10 were Spring Grove's Greg Hodnett, Dover's Chad Trout, Kerry Madsen and 24th-starter Matt Campbell, of Fawn Grove.
OTHER DIRT
TRACK RACING
Herr grabs super-sportsman win at Susky: On Saturday at Susquehanna Speedway, Frankie Herr made it two in a row in super-sportsman competition.
This time, Herr started 10th and took the lead from Garrett Williamson on the 19th of 25 laps. Williamson finished second, followed by Mike Enders, early leader Nate Young and Matt Ondek in the top five. Rounding out the top 10 were Timmie Barrick, Jay Fannasy, new track champion Scott Dellinger of Lewisberry, Gregg Foster, and Russ Mitten.
Jed Latshaw scored his first limited-late-model win over Manchester's Randy Christine Jr. Joe Lusk, Brian Shuey and Eric Hohol completed the top five.
Craig Morgan won the street-stock feature over Scott Thunberg, Jim Palm, Joey Hoffer and Jimmy Combs.
Strinestown's Travis Horan won the Xtreme stock feature over Newberrytown's Alex Updegraff after the two swapped the lead several times in the final two laps.
Hodnett leads all 25 laps en route to Grove win: Spring Grove's Greg Hodnett led all 25 laps to win Williams Grove's Outlaw Tune Up on Friday evening, Sept. 23.
Hodnett took home $4,000 for his victory.
While Hodnett led the whole distance from his pole starting spot, fourth-starter Lance Dewease made things interesting over the closing stages of the race. Lucas Wolfe finished third, with Brian Brown and Freddie Rahmer in the top five. James McFadden, Fawn Grove's Matt Campbell, Kerry Madsen, Brian Montieth and Danny Dietrich completed the top 10.
Scott Fisher got his first win of the season in the 358 sprint feature. Like Hodnett, Fisher started from the pole and led the whole distance, with a late-race challenge from Kevin Nouse. Kyle Denmyer finished third, with Dillsburg's Chris Frank and York's Chase Dietz in the top five. Rounding out the top 10 were Steve Owings, Brett Wanner, Nyle Berkes, Hanover's Troy Wagaman Jr. and Steve Drevicki.
Rutherford wins twice at Trailway: For the second time in his career, Mike Rutherford won both micro-sprint features during the running of the Kevin Gobrecht Memorial at Trailway Speedway.
Rutherford won in both the 270cc and 600cc micro-sprint features on Saturday afternoon.
In the 270s, Rutherford won over Brian Marriott, Joe Long Jr., Kyle Spence and Jeff Haefke.
In the 600s, Hayden Miller, Heath Hehnley, Kameron Morral and Jim Young chased Rutherford to the line.
Austin Bellemare won the Legends feature over Travis McClelland, Chris Transeau, York's Lucas Montgomery and York Haven's Tim O'Sheehan.
Andrew Yoder victorious at Clinton County: Andrew Yoder won Friday's limited-late-model feature at Clinton County Speedway over cousin Dylan Yoder.
Ralph Morgan Jr., Matt Cochran and Jim Yoder completed the top five.
Reach Bryan Householder at sports@yorkdispatch.com.