DIRT TRACK RACING: Lance Dewease earns $56,350 over weekend at Port Royal Speedway
BRYAN HOUSEHOLDER
505-5403/@ydsports
Lance Dewease won the Tuscarora 50 on Saturday night at Port Royal Speedway.
Dewease also won Friday's feature at Port Royal.
During the weekend, Dewease earned $56,350.
Lance Dewease completed a sweep of the Tuscarora 50 weekend at Port Royal Speedway on Friday and Saturday evenings, Sept. 8 and Sept. 9.
Combined, Dewease's wins on Friday and Saturday totaled $56,350.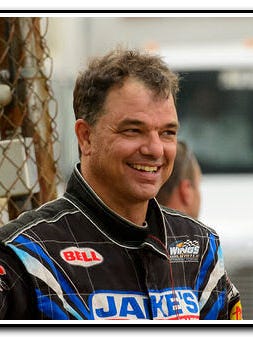 In Saturday's Tuscarora 50, Dewease started sixth and took the lead from pole-sitter Ryan Smith on the seventh lap. He went unchallenged from that point to score the win, which offered $50,000 plus another $1,350 in lap money. The race was run in two 25-lap segments, which both went non-stop.
Smith finished in the runner-up spot, with Brock Zearfoss coming from the ninth starting spot for third. With that finish, Zearfoss also edged Dylan Cisney by five points for the 2017 Port Royal championship.
Lucas Wolfe came from the 22nd starting spot to finish fourth and earn a $1,000 bonus as the event's Hard Charger. Australian Kerry Madsen finished fifth. Rounding out the top 10 were Danny Dietrich, Knoxville regular Brian Brown, Joey Saldana, Ryan Taylor and Spring Grove's Greg Hodnett.
Andrew Stotler won his first career econo late-model feature over Andrew Yoder and Eric Irvan. Tim Fedder finished fourth and earned the season point crown, with Derrick Garman in fifth.
In Friday's feature, Dewease had a tougher time earning the $5,000 win. Brown led the first 25 laps of the 30-lap race, before Dewease was able to get by in heavy lapped traffic. Brown finished second, followed by T.J. Stutts, Hodnett and Madsen in the top five. Rounding out the top 10 were Dietrich, Mike Wagner, Dale Blaney, Ryan Smith and Danny Holtgraver.
In Friday's Moonshine Camo Route 35 Challenge Butch Renninger Memorial late-model race, Jeff Rine earned $3,952 for his victory. Rine took the top spot from Newberrytown's Jason Covert on the 15th of 33 laps. Dover's Coleby Frye came on late for second place and earned the Moonshine Camo Series title. Covert got third, with Chad Hollenbeck and Hard-Charger Andy Haus in the top five. Haus came from the last starting spot. Rounding out the top 10 were Gary Stuhler, new track champion Mike Lupfer, Jeff Miller, Tim Wilson and Marvin Winters.
OTHER DIRT
TRACK RACING
Dover's Gene Knaub gets big win at Susquehanna: Dover's Gene Knaub led all 50 laps of Saturday's Topless 50 for the limited late models at Susquehanna Speedway.
Knaub's win in the big event was worth $5,000. Brian Shuey finished second, with Hanover's Bobby Beard, Hard-Charger Derik Quade and Manchester's Randy Christine Jr. in the top five. Rounding out the top 10 were Randy Stoudt, Sean Merkel, Bryan Bernheisel, Dover's Chase Billet and Taylor Farlling.
Chris Meleason got his first win of the season in the 20-lap, super-sportsman feature. Like Knaub, Meleason led every lap to best Tony Jackson for the win. Chase Gutshall finished third, followed by Kenny Edkin and Garrett Williamson in the top five. Rounding out the top 10 were Dillsburg's Rich Eichelberger, Todd Leonard, Jay Fannasy, Lewisberry's Scott Dellinger and Mike Enders.
Steve Dove won the street-stock feature over Scott Thunberg, Jim Palm, York Haven's Matt Adams and point leader Craig Morgan.
On Friday's program at Susky, Austin Bishop won his first career 305 sprint feature, with Zach Newlin, Kyle Smith, York Haven's Dave Grube and Dave Brown in the top five.
Newberrytown's Alex Updegraff won the Xtreme stock feature.
Ross leads way at Trailway: Tyler Ross won Friday's 358 sprint feature at Trailway Speedway.
For Ross, who has spent most of the season in 410 sprint competition, it was his first 358 win of the year. It was, however, his second overall win of the year. The previous Friday he won a SpeedSTR feature at Linda's Speedway. Both of the wins came in the weeks following a hard sprint crash at Lincoln Speedway.
Trailway 358 sprint champion Steve Owings followed Ross to the checkered flag, with Dwight Leppo, Mike Bittinger and Issac Sneeringer in the top five. Rounding out the top 10 were Cody Fletcher, J.B. Cunningham, Steve Kisamore, Dylan Norris and Austen Treuchet.
Chris Transeau won the Legends feature over Hayden Pascoe, Travis McClelland, Chandler Pagnotta and Rick Hartwig.
The 600cc micro-sprint feature went to Garrett Bard over Jim Young, Zane Rudisll, Kameron Morral and Bradley Weber.
Brian Walls was the street-stock winner.
Reach Bryan Householder at sports@yorkdispatch.com.