HOUSEHOLDER: Dewease races to Gobrecht triumph at Susky
BRYAN HOUSEHOLDER
505-5403/@ydsports
Lance Dewease won the Kevin Gobrecht Classic at Susquehanna Speedway on Sunday night.
Dewease earned more than $5,700 for his night's work.
Dewease has now won four races in five sprint-car starts this season.
After a weekend of rain that saw all of the area tracks washed out on Friday and Saturday, Susquehanna Speedway did manage to play host to the Kevin Gobrecht Classic on Sunday evening.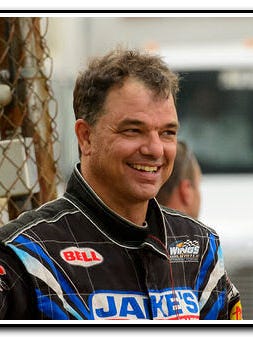 Lance Dewease drove to victory in the 30-lap, sprint-car feature. The win was Dewease's fourth in five races this season. In the other event, the first at Susquehanna this season, Dewease finished third.
Dewease also set fast time and won his heat race Sunday at Susquehanna, so with bonuses for fast time and a sweep of the evening, Dewease walked away with more than $5,700 for his night's work.
Spring Grove's Greg Hodnett grabbed the early lead from the pole position, but outside front-row starter Brian Montieth wrested the lead from Hodnett on the fifth lap. Dewease started fifth, and had just taken the second spot from Hodnett on the 16th lap when Montieth was involved in a nasty head on crash with Trey Starks after Starks got tuned around in a melee just in front of the leader.
Both drivers were uninjured, but done for the night. From that point, Dewease cruised away to win by more than three seconds over Hodnett. Aaron Ott finished third, with Lucas Wolfe and Brock Zearfoss in the top five. Rounding out the top 10 were Brandon Rahmer, Lewisberry's Kyle Moody, Ryan Smith, race hard-charger Kyle Reinhardt, who came from the 22nd starting spot, and Tyler Ross.
In the 358 sprint feature, Doug Hammaker claimed his second Susky win in as many races this season. Hammaker's win in the 25-lap event came over Spring Grove's Dwight Leppo, with Lewisberry's Jordan Givler in third. Hanover's Troy Wagaman Jr. and Brett Wanner completed the top five. Rounding out the top 10 were T.J. DeHaven, Cody Fletcher, Jared Esh, Dillsburg's Chris Frank and Wyatt Hinkle.
PIT STOPS
Joe Becker dies: Last week we lost yet another local racing personality.
Joe Becker died unexpectedly after a brief illness. Race fans will remember Becker as the pace truck driver at Lincoln Speedway. However, Becker also spent a lot more time at the local ovals than just as a pace truck driver.
Becker got his first taste of local auto racing not long after he returned from a five-year stint in the Navy. That was in the early 1960s when a friend who drove a push truck took Becker along to the races. A week later Becker had a push bumper on his own pickup, but not for long. Just a few weeks after he began push starting race cars, Becker had a race car in his garage.
He started racing the local late-model circuit in the late 1960s and eventually he won a race at the old Sycamore Springs Speedway. It was on July 29, 1972, that Becker got the win he really wanted. That one came at Lincoln Speedway.
Eventually the cost of racing forced Becker to the sidelines, but again it wasn't for long. First he worked as a corner flagman at Lincoln, and then in the late 1970s he took over as the pace car driver. The pace car became a pace truck and he ventured out to work at Williams Grove as well. Later he retired from the duties at Williams Grove, but continued on at Lincoln.
Becker drove the pace truck at Lincoln right up until a week before his death.
This weekend: Local sprint-car racers will have one more weekend to prepare before the World of Outlaws come to the area.
Williams Grove has an "Outlaw Tune Up" set for Friday evening. The 358 sprints will also be on the card. The 358 sprints headline Friday at Trailway. The 600cc micro sprints, street stocks and limited stocks also race.
Lincoln will host the sprints, 358 sprints and All American Outlaws Saturday, along with kids' big-wheel races. Port Royal has the sprints, late models 305 sprints and econo late models on its Saturday show. At Selinsgrove, it's the 360 sprints, late models, pro stocks and roadrunners. Susquehanna's Saturday show will feature the super sportsmen, limited-late models, street stocks and Legends cars.
Fish Fry: For the second year in a row, the blindfold race at the Gary Wolford Fish Fry on Sunday afternoon was canceled because of muddy conditions after the weekend of rain.
The Fish Fry did go on, and many fans and racers took part in the festivities. It should have been another good fundraiser for the Eastern Museum of Motor Racing.
By the way, I did have a chance to stop by the museum while I was there, and there are several new displays, and a few new vintage cars that I hadn't seen before.
1972: Rain still played a part in the local racing action on this weekend in 1972. Friday and Saturday shows got in the books, but both Susquehanna and Hagerstown were rained out again on Sunday.
Jan Opperman drove the Bogar No. 99 to his ninth win of the season Friday at Bedford. At Williams Grove, Wrightsville's Bobbie Adamson made it two in a row there in Al Hamilton's No. 77. The next night, Adamson extended his winning streak at Selinsgrove, giving him four wins on the season.
At Lincoln on Saturday, Loganville's Kenny Weld drove Bob Weikert's No. 29 to his eighth overall win of the season. It was also Weld's third win at Lincoln in as many races that year. At Port Royal on Saturday, Dover's Smokey Snellbaker drove to his second win of the season at the wheel of Roy Morral's No. 880.
Bryan Householder writes about dirt-track racing for The York Dispatch. He can be reached at sports@yorkdispatch.com.
2017 CHAMPION RACING OIL
BR MOTORSPORTS
CENTRAL PENNSYLVANIA SPRINT SERIES
PRESENTED BY HOSEHEADS.COM
Driver, points wins
1. 48 Danny Dietrich 308 3
2. 24 Lucas Wolfe  264 1
3. 27 Greg Hodnett  244 1
4. 07 Doug Esh  231 2
5. 69K Lance Dewease 230 4
6. 21 Brian Montieth 225 1
7. 3z Brock Zearfoss 203 1
8. 51 Freddie Rahmer 185 1
9. 1 Dale Blaney  184
10. 87 Alan Krimes  150 
11. 25 Aaron Ott  132
12. 11 T J Stutts  128
13. 16 Gerard McIntyre Jr 113
14. 0 Rick Lafferty  110
15. 39 Cory Haas  95
16. 59 Jim Siegel  81
16. 5 Dylan Cisney  81
18. 16 Matt Campbell 78
19. 99M Kyle Moody  77
20. 17B Steve Buckwalter 74
21. 7w Logan Wagner 74 1
22 44 Trey Starks  68 1
23. 55 Mike Wagner  67
24. 1x Chad Trout  66
25. 8 Billy Dietrich  64