Lance Dewease picks up 87th triumph at Williams Grove
STAFF REPORT
MECHANICSBURG — It's win No. 87 and counting for Lance Dewease in the sprint car record books at Williams Grove Speedway after his defeat of Freddie Rahmer and the Arctic Cat All Star Circuit of Champions Sprints in the annual Tommy Hinnershitz Classic on Friday night.
Now at 87 wins on his career at the oval, Dewease of Fayetteville needs just three more victories to tie Fred Rahmer Sr. on the all-time Williams Grove win list and four more to become the all-time win leader.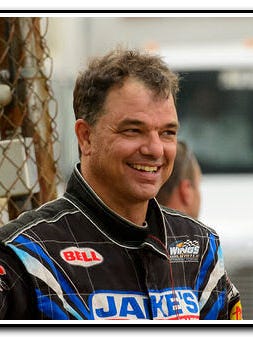 Tim Shaffer and Freddie Rahmer comprised the front row for the start of the 30-lap Tommy Classic with Rahmer going for all the marbles in the first and second turns on the green flag lap but Dewease stuck his nose into the mix on the low side and came out with second as the trio raced onto the backchute.
Shaffer held a small lead over Dewease during the opening laps but by lap four Dewease was reeling in the leader and it took just two more laps for him to catch Shaffer and make a low side pass in the third and fourth corner to take command of the field with six away.
Dewease then entered the backmarkers on the ninth tour as Rahmer finally got around Shaffer for second just shy of the halfway point.
The only caution flag of the race unfurled 14 laps to go for a stopped Steve Buckwalter, erasing a .921 second lead that Dewease had over Rahmer.
Rahmer proved a stout challenger on the restart and over the entire ramining distance, consistenly rolling the outside lane in the first and second turns to try and gain valuable ground in an effort to net the top spot.
Dewease again entered traffic with six laps to go and Rahmer was close enough the whole time to keep Dewease honest but he was never as close as he was on the final lap in the second corner.
As it happened, Dewease and Rahmer took the white flag with backmarker of Anthony Macri just in front and when Dewease chose low to enter turn one, so did Macri with Rahmer blasting the outside lane.
Rahmer drove up and around Macri with Dewease seemingly boxed out until at the last possible moment Macri slipped up off of the bottom just enough in the middle of the turn to set up a breath taking three-wide situation as Dewease nudged by both Macri and Rahmer to burst onto the backstretch still the leader.
The surge that Dewease got off of the bottom groove in the second turn allowed him to hold onto the victory, taking his second win of the year at the track by .814 seconds at the finish.
The $5,000 win was the sixth All Stars victory of Dewease's career at Williams Grove Speedway alone and the 32nd of his career overall on the series circuit.
Shaffer held on for second followed by Aaron Ott and Danny Dietrich.
Sixth through 10th went to Trey Starks, Brian Montieth, Lucas Wolfe, TJ Stutts and Tony Stewart.
Heats went to Rahmer, Montieth, Wolfe and Stewart with twin dashes going to Shaffer and Rahmer.
Steve Buckwalter took the B Main and Rodney Westhafer took the C Main.
Dewease set fast time over the 45-car field with a lap of 16.446 seconds.
Jay Krout led on the first circuit of the 20-lap PASS 305 sprint main before Tyler Reeser took over the lead and headed to victory.
A lengthy red flag period on the third lap took place for a four-car tangle in the fourth turn.
The final 17 laps of the race went nonstop witih Reeser winning over Zach Newlin, Ken Duke Jr., Krout and Rick Stief.
Heats went to Colby Dice, Kyle Ganoe and Cale Reigle.
Feature Finishes
C-Main - (10 Laps) - Top 2 Transfer
1. 44W-Rodney Westhafer [2]; 2. 22-Brandon Spithaler [1]; 3. 13-Brandon Matus [6]; 4. 9C-Roger Campbell [5]; 5. C4-Jim Shuster [8]; 6. 51-John Garvin [7]; 7. 12W-Troy Fraker [9]; 8. 33-Brent Matus [10]; 9. 49H-Bradley Howard [3]; 10. 9-Ryan Linder [4]; 11. 1W-Eric Tomecek [11]

B-Main (12 Laps) - Top 4 Transfer
1. 38-Steve Buckwalter [2]; 2. 27-Greg Hodnett [1]; 3. 3Z-Brock Zearfoss [3]; 4. 87-Alan Krimes [11]; 5. 17-Caleb Helms [6]; 6. 98-Carl Bowser [4]; 7. 47K-Kody Lehman [10]; 8. 16-Matt Campbell [12]; 9. 8M-TJ Michael [5]; 10. 35-Tyler Esh [9]; 11. 44W-Rodney Westhafer [15]; 12. 75-Frankie Herr [13]; 13. 1080-Jordan Mackison [7]; 14. 22-Brandon Spithaler [16]; 15. OO-Dane Lorenc [8]; 16. 33M-Max Stambaugh [14]

A-Main (30 Laps)
1. 69K-Lance Dewease [4]; 2. 51R-Freddie Rahmer [2]; 3. 49X-Tim Shaffer [1]; 4. 25-Aaron Ott [3]; 5. 48-Danny Dietrich [5]; 6. 44S-Trey Starks [6]; 7. 21-Brian Montieth [7]; 8. 24-Lucas Wolfe [8]; 9. 11-TJ Stutts [11]; 10. 14-Tony Stewart [9]; 11. 39-Cory Haas [10]; 12. 94-Ryan Smith [14]; 13. 1Z-Dale Blaney [15]; 14. O7-Doug Esh [17]; 15. 88-Brandon Rahmer [16]; 16. 7C-Caleb Armstrong [12]; 17. 10H-Chad Kemenah [13]; 18. M1-Mark Smith [18]; 19. 87-Alan Krimes [24]; 20. 27-Greg Hodnett [22]; 21. 3Z-Brock Zearfoss [23]; 22. 39M-Anthony Macri [20]; 23. 16-Matt Campbell [27]; 24. 8M-TJ Michael [25]; 25. 17-Caleb Helms [26]; 26. 38-Steve Buckwalter [21]; 27. 95-Hunter Mackison [19]
Hard Charger - 87-Alan Krimes[+5]
305 Sprints (20 laps): 1. Tyler Reeser, 2. Zach Newlin, 3. Ken Duke Jr., 4. Jay Krout, 5. Rick Stief, 6. Colby Dice, 7. Cale Reigle, 8. Kyle Ganoe, 9. Mark Watkins, 10. John Haegle, 11. Dave Grube, 12. Darren Miller, 13. Scott Ellerman, 14. Jaremi Hanson, 15. Greg Debrosky, 16. Stephanie Dodson, 17. Andrew Hake, 18. Mike Alleman, 19. Kyle Craker, 20. Alex Petosky, 21. Drew Ritchey, 22. John Walp, 23. Erin Statler, 24. Ian Detweiler,
DNS: Mike Kiser, Steve Kothe.