DIRT-TRACK RACING: Dewease wins Dream Race at Port
BRYAN HOUSEHOLDER
505-5403/@ydsports
Lance Dewease has now won nine times in 17 starts this season.
Dewease earned $12,510 for his victory at Port Royal Speedway.
Stevie Smith settled for second, while Danny Dietrich took third.
Lance Dewease raced to his ninth win in 17 starts this season in the Dream Race at Port Royal Speedway on Saturday night.
Dewease collected $12,510 for his evening's work.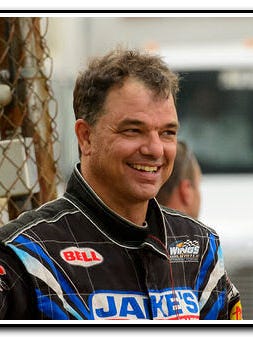 Dewease and Stevie Smith started the 35-lap race from the front row and exchanged the lead several times during the first 12 laps. From the 12th lap on, Dewease held sway, with Smith settling for second at the finish.
Danny Dietrich finished third, with Spring Grove's Greg Hodnett and Lucas Wolfe in the top five. Rounding out the top 10 were Ryan Taylor, Aaron Ott, Ryan Smith, Dylan Cisney and Blane Heimbach.
Dylan Yoder came out on top of a three-car battle to win the late-model feature over Dover's Coleby Frye. Mike Lupfer, Tim Wilson and Tim Smith Jr. completed the top five.
A night earlier at Clinton County, Frye had passed Yoder on the final lap to win the Herm Braim Memorial Race. Ryan Lynn won Clinton County's 305 sprint feature.
OTHER DIRT
TRACK RACING
Godown triumphs at Susquehanna on Sunday: Ryan Godown won Sunday evening's Short Track Super Series Modified feature at Susquehanna Speedway.
Godown's victory in the 50-lap race was worth $5,000.
Godown started 10th and had advanced to second by the 36th lap when race-long leader Anthony Perrego suffered a flat tire, turning the lead over to Godown.
Godown went on to score the victory over Frank Cozze, who had come back from an early-race tangle for second. However, Cozze's car came up light in post-race inspection, turning the spot over to Ryan Watt, who had started 20th.
Jeff Strunk finished third, with Stewart Friesen in fourth and Jimmy Horton in fifth.
Rounding out the top 10 were Billy Pauch Jr., Brett Kressley, Duane Howard, Tim Buckwalter and Richie Pratt Jr.
Mitten shines at Susquehanna on Saturday: Russ Mitten won Saturday's super-sportsman feature at Susquehanna for his third win of the season.
Dover's Teddy Thomas led the first 12 laps of the 25-lap feature before Mitten took over the top spot. At the finish, it was Mitten the winner over Wellsville's Scott Geesey and Thomas. Fawn Grove's Paul Miller and Lewisberry's Scott Dellinger completed the top five. Rounding out the top 10 were Gregg Foster, Kenny Edkin, Rick Barr, Bruce Buckwalter Jr. and Tony Jackson.
Randy Stoudt won the limited-late-model feature over Manchester's Charles Potts, with Shaun Miller, Manchester's Randy Christine Jr. and York Haven's Steve Billet in the top five.
Twin 15-lap features for the street stocks fell to York's Kevin Seigler and Chris Derr. Manchester's Mike Potts finished second in both races.
Wolfe drives to Grove win: Wolfe drove to a convincing victory in Friday's 25-lap sprint car feature at Williams Grove. Wolfe earned $3,600 for his win.
Wolfe started sixth and took over the top spot on the fourth lap when leader Rodney Westhafer had a wing panel come apart. From there on, Wolfe was the class of the field, scoring the win over a fast-closing Brian Montieth. Alan Krimes finished third, with Doug Esh and York's Cory Haas in the top five. Rounding out the top 10 were Hodnett, Dietrich, York's Chase Dietz, Fawn Grove's Matt Campbell and Steve Buckwalter.
Kevin Nouse drove to his first 358 sprint win in a year and half in the 25-lap Nouse Signs and Graphics event. Winning his own event, Nouse took the lead from Matt Findley on the 11th lap. Eric Parker finished second, with Findley, Doug Hammaker and Chandler Leiby in the top five. Campbell, Dillsburg's Rich Eichelberger, Nyle Berkes, Tyler Esh and Jordan Givler completed the top 10.
Nouse victorious at Lincoln: Nouse liked Friday's win so much he did it again on Saturday at Lincoln, this time in dramatic fashion.
Nouse won the 20-lap 358 sprint feature at Lincoln after a spirited battle with Tyler Walton. Walton led the first 11 laps, before Nouse took over for next five circuits. Walton was back on top until the second turn of the final lap. Walton finished second, with Jeff Halligan, Tyler Esh and Campbell in the top five. Rounding out the top 10 were Hanover's Troy Wagaman Jr., Dillsburg's Brie Hershey, Hammaker, David Holbrook and Leiby.
Reed Salony won the Legends feature, taking the lead from York's Lucas Montgomery on the eighth of 15 laps, and then holding off Seven Valleys' Harlon Leppo for the win. Leppo had started 18th.  Montgomery finished third, with Bob Stough and Mason Chaney in the top five.
Justin Wagaman won the mini-stock feature, joining his father Bryan and uncle Craig as stock-car winners in Lincoln history.
Steve Clemo was the classic-car winner.
Holbrook first at Trailway: Holbrook won Friday's 358 sprint feature at Trailway for his second win of the season.
Spring Grove's Dwight Leppo finished second, with Halligan, Steve Owings and Seth Kearchner in the top five. Rounding out the top 10 were Walton, York Haven's Rick Horn, Spring Grove's Zach Eucalano, Brandon Noel and J.B. Cunningham.
Brad Weber led all 20 laps to win the 600cc micro-sprint feature over Jake Frye, Hannah Riser, Garrett Bard and Christian Reed.
Matt Wampler was the street-stock winner and Robbie Carroll was the limited-stock winner.
Reach Bryan Householder at sports@yorkdispatch.com.