DIRT TRACK RACING: Dewease's dream season continues
BRYAN HOUSEHOLDER
505-5403@ydsports
Lance Dewease picked up $25,000 for his victory in Saturday's race.
Dewease has now won eight times in 16 races this season.
Daryn Pittman won Friday's preliminary night Outlaws feature at Williams Grove.
The dream season continued for Lance Dewease and car owner Donnie Kreitz Jr. when they picked up a $25,000 win in Saturday's World of Outlaws Summer Nationals at Williams Grove Speedway.
The win marked the eighth triumph in 16 races for the team this season.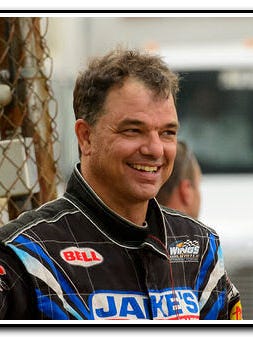 Dewease started fourth in the 30-lap race and took the top spot from Joey Saldana on the 20th lap. Dewease went on to claim the win over Daryn Pittman, with 15th-place starter Stevie Smith in third.  David Gravel and Donny Schatz completed the top five. Rounding out the top 10 were Alan Krimes, Brad Sweet, Freddie Rahmer, Kerry Madsen and York's Cory Haas.
Pittman led all 25 laps to win Friday's preliminary night Outlaws feature at the Grove. The former Grove regular, who now tours with the Outlaws, collected $8,000 for his 17th career Grove win.
Dewease came from the 10th starting spot to finish second, with Spring Grove's Greg Hodnett in third. Stevie Smith and 16th-starting Schatz completed the top five. Rounding out the top 10 were Freddie Rahmer, who started 13th; Gravel, from 18th; Madsen, from 15th; James McFadden; and Doug Esh, from 20th.
OTHER DIRT
TRACK RESULTS
Steve Fannasy wins at Susquehanna: Steve Fannasy won Saturday's super sportsman race at Susquehanna Speedway.
Fannasy started second and assumed the lead when early leader Justin Foster hit the wall on the 12th lap. Fannasy went on to win over Tom Wyckoff, with Chad Smith in third. Lewisberry's Scott Dellinger and Rick Barr completed the top five. Rounding out the top 10 were Chad Criswell, Tony Jackson, Russ Mitten, Doug Dodson and the winner's brother, Jay Fannasy.
Manchester's Randy Christine Jr. won his second in a row in the limited late model race. Christine started third, but led every lap for the win. Dave Latsha, Dover's Chase Billet, Randy Stoudt and Troy Miller completed the first five.
Travis McClelland won the Legends feature over Australian Hayden Pascoe, Scott Houdeshell, Reed Salony and Rick Hartwig.
Chris Anderson was the road warrior winner.
Eric Tomecek, Mark Smith triumph at Selinsgrove: Eric Tomecek and Mark Smith each won 360 sprint car features at Selinsgrove Speedway on Saturday.
Tomecek won the make-up feature event over Davie Franek, with Robbie Stillwaggon, Jason Shultz, Michael Walter II, T.J. Stutts, Adam Carberry, Derek Locke, Ryan Kissinger and Eric Parker in the top 10.
In the regular event, Smith took the lead on 23rd of 25 laps and bested Mallie Shuster for the win. Locke, Larry Kellehar, Stutts, Shultz, Parker, Stillwaggon, Mike Walter Sr. and Kissinger completed the top 10.
Dover's Coleby Frye won the Moonshine Camo Late Model Challenge event.
Frye took the lead from Tony Adams on the 18th of 25 laps. Andrew Yoder, Donnie Schick, Adams and Mike Lupfer completed the top five. Moonshine series leader Jeff Rine suffered a flat tire on the final lap while running third and dropped to seventh at the finish.
Kurt Wray won the pro stock feature over Strinestown's Tommy Slanker.
Former NASCAR Cup Series competitor David Stremme won the mid-Atlantic modified feature.
Steve Owings first at Trailway: Steve Owings bolted a 358 engine into his 410 sprinter and led every lap to win the 25-lap 358 sprint feature at Trailway Friday.
David Holbrook finished second, with Dwight Leppo, Jeff Halligan and Spring Grove's Zach Eucalano in the top five. Rounding out the top 10 were Seth Kearchner, J.B. Cunningham, Issac Sneeringer, Randy Whisler and Dan Richcreek.
Hayden Miller won the 600cc micro sprint feature over Tom Frachetta, Brad Weber, Jim Young and Danny Jones.
The 270cc micro sprint feature went to Brian Marriott over Bill Laughman, Levi Peck, Mike Boer and Chad Myers.
Jason Chronister was the limited stock winner, and Jim Crocker won the classic car feature.
Reach Bryan Householder at sports@yorkdispatch.com.