Lance Dewease wins World of Outlaws race at Grove
STAFF REPORT
MECHANICSBURG — Lance Dewease blasted by Greg Hodnett in turn three for the lead and then dominated the remaining 16 laps to win the Craftsman World of Outlaws Sprint Car Series feature Friday night at Williams Grove Speedway.
Dewease, of Fayetteville, earned $8,000 for his second straight Grove win driving for Donnie Kreitz. It was his 83rd career Grove win.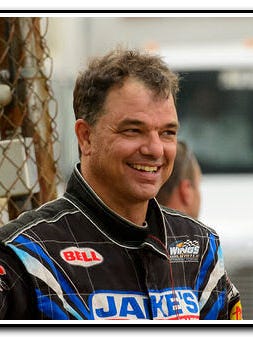 He was running third on lap seven behind Daryn Pittman and leader Greg Hodnett. He blasted under Pittman entering turn three to take second. He made the same impressive move the next time around to take the lead from Hodnett.
"I had to move up and that's how I caught them," said Dewease. "I actually wasn't bad in the middle. I knew sooner or later it was going to rubber-up around the bottom, so I went back down and felt pretty good there. Greg was kind of just sitting there. When you're leading, it's so hard to move around, and the guy in second has all the advantage in the world. Greg was good all night and we just happened to get to him before it rubbered-up."
Hodnett started on the pole and took the lead from Joey Saldana on the opening lap of the 25-lap main event. Dewease started third, but fell to fourth behind Pittman on the opening lap.
Pittman and Saldana raced hard for second with Pittman gaining the spot. Dewease passed Saldana on the frontstretch to take third with four laps completed.
Dewease was searching the track surface for speed and found some. He drove hard under Pittman into turn three and took the runner-up spot as lap eight was completed. He had Hodnett in his sights now and made the identical move the next lap to take the lead.
He caught lapped traffic with 13 laps completed, but the yellow flag flew for Tim Shaffer.
Dewease picked the bottom for the double-file restart and drove away from Hodnett on the restart. In only two laps, his lead was nearly three seconds.
The bottom lane became the preferred line over the final laps and Dewease was stuck behind slower cars allowing Hodnett to close. Hodnett tried the outside lane in turn one on the final lap, but couldn't make up any more ground.
Dewease scored the win by 0.843 seconds over Hodnett.
"At the end, I was struggling a little bit," said Dewease. "I didn't know if Greg could do anything outside the rubber. I made sure I didn't get on anybody's rear bumper."
"He really hauled that thing in there," said Kreitz of Dewease's third turn passes. "He didn't hesitate and I couldn't believe how hard he hauled it in and got both those guys. They were both great moves."
Defending and seven-time Outlaws champion Donny Schatz would finish third ahead of Pittman and Danny Dietrich.
Saldana, Doug Esh, Shane Stewart, Ryan Smith and T.J. Stutts rounded out the top 10.
Saldana set overall quick time with a lap of 17.186 seconds. He was in the first flight of cars. Hodnett had quick time in the second flight of cars with a lap of 17.524 seconds.
Eight-lap heat races for the 39-car field were won by Saldana, Dewease, Hodnett and Pittman. Hodnett won the dash and Outlaws point leader Brad Sweet won the Last Chance Showdown.
Weather permitting, the Grove returns to action Saturday night for the $17,000 to win Morgan Cup sanctioned by the Outlaws.

Sprint Car Feature (25 laps): 1. Lance Dewease. 2. Greg Hodnett 3. Donny Schatz 4. Darren Pittman 5. Danny Dietrich 6. Joey Saldana 7. Doug Esh 8. Shane Stewart 9. Ryan Smith 10. T.J. Stutts 11. Aaron Ott 12. Cory Haas 13. Brian Montieth 14. Lucas Wolfe 15. Brent Marks 16. Pat Cannon 17. Jason Sides 18. Logan Schuchart 19. Sammy Swindell 20. Stevie Smith 21. David Gravel 22. Jason Johnson 23. Brad Sweet 24. Tim Shaffer
Did Not Qualify: Trey Starks, Austin Hogue, Jacob Allen, Paul McMahan, Rodney Westhafer, Brock Zearfoss, Logan Wagner, Frankie Herr, Clyde Knipp, Greg Wilson, Justin  Barger, Troy Fraker.
DNS – Alan Krimes, Matt Campbell, Steve Buckwalter.