Lance Dewease drives to Williams Grove sprint car win
STAFF REPORT
MECHANICSBURG — Lance Dewease and Donnie Kreitz have both beaten the World of Outlaws at Williams Grove Speedway during their careers.
Could they do it as a team next weekend?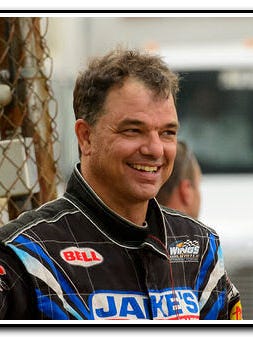 Dewease, of Fayetteville, drove Kreitz's car to a dominating win Friday night at Williams Grove in a tune-up event for next weekend's race.
The Craftsman World of Outlaws will be at Williams Grove next Friday and Saturday night for the Morgan Cup Weekend.
His win was worth $4,000, it was his 82nd career Grove win –second all-time – and first of the season.
Lucas Wolfe started on the pole and grabbed the lead over second starter Greg Hodnett and third starter Danny Dietrich.
Fifth starter Dewease drove by Aaron Ott and into fourth and nearly passed Dietrich for third off turn two.
The only yellow flag of the race flew with three laps completed for Rodney Westhafer in turn three.
From there, it was Dewease's show.
Dewease and Dietrich raced hard again for third nearly making contact on the frontstretch. Dewease checked-up and actually fell back a spot. Ott got by Dietrich and then Dewease would finally make the pass as well.
Dewease – a six-time track champion - drove back by Ott on the backstretch and then began to close on Wolfe and Hodnett.
He would get under Hodnett entering turn one on lap 12 and made the same move by Wolfe to take the lead on the following lap.
He streaked away from there.
"This thing runs anywhere you want it," said Dewease. "I had problems in the heat race and barely made it back out for the dash. We weren't very good, but Davey (Brown) knows how to make them go fast and made the right adjustments. The first 15 laps, this thing was really good."
Dewease and Kreitz got together over the winter to run select shows.
"It's a pleasure; it's an honor," said Dewease about driving for Kreitz. "When this opportunity came, I jumped at it. We're off to a good start. Everything was good tonight. It has been one of the best racecars around forever."
Dewease's thoughts then turned to the car owners (Walt and Marsha Dyer) that gave him his big break in the sport in early 1990's.
"Marsha (Dyer) –we laid her to rest last Friday and I dedicate this win to her," he said. "The whole family is here and I hope they stick around for a victory lane photo with me."
After taking the lead, Dewease sliced through lapped traffic over the final 10 laps and beat Wolfe by 5.501 seconds at the checkers. Hodnett, Ott and Dietrich completed the top five. Cory Haas, TJ Stutts, Brent Marks, Alan Krimes, and Stevie Smith rounded out the top 10.
Stutts set fast time over the 27-car field with a lap of 16.603 with Hodnett, Dietrich, Wolfe and Ott completing the top five in qualifying.
Heat races were won by Wolfe, Hodnett and Dietrich. Wolfe won the dash and Pat Cannon the B-main.
After a false start swapped the front two rows of the 358 Sprint car feature, Adrian Shaffer grabbed the lead from his second starting spot. Following a lap nine caution, he got pressure from Kevin Nouse for the top spot.
Shaffer began to pull back away from Nouse over the final laps and scored his second straight Grove win after winning the opener last month. The event was a Capital Renegade King of the 358 Sprints Series race. Nouse, Chris Arnold, Chandler Leiby and Glenndon Forsythe completed the top five.
Chad Trout, David Holbrook, Brie Hershey, Jordan Givler and Nyle Berkes rounded out the top 10.
Heat races for the 358 Sprints were won by Nyle Berkes, Chandler Leiby and Kevin Nouse.
Sprint Car Feature (30 laps): 1. Lance Dewease. 2. Lucas Wolfe. 3. Greg Hodnett. 4. Aaron Ott. 5. Danny Dietrich. 6. Cory Haas. 7. TJ Stutts. 8. Brent Marks. 9. Alan Krimes. 10. Stevie Smith. 11. Doug Esh. 12. Steve Buckwalter. 13. Ryan Smith. 14. Brian Montieth. 15. Brock Zearfoss. 16. Freddie Rahmer. 17. Matt Campbell. 18. Austin Hogue. 19. Pat Cannon. 20. Rodney Westhafer. 21. Rick Lafferty. 22. Tim Glatfelter. 23. Justin Barger. 24. Nicole Bower.
Did Not Qualify: Daryl Stimeling, Troy Fraker, Todd Allen.
358 Sprint Car Feature (20 laps): 1. Adrian Shaffer. 2. Kevin Nouse. 3. Chris Arnold. 4. Chandler Leiby. 5. Glenndon Forsythe. 6. Chad Trout. 7. David Holbrook. 8. Brie Hershey. 9. Jordan Givler. 10. Nyle Berkes. 11. Tyler Esh. 12. Todd Reed. 13. Rich Eichelberger. 14. Matt Findley. 15. Phil Walter. 16. Brian Garland. 17. DJ Montgomery. 18. Aaron Eichelberger. 19. Doug Hammaker. 20. Jared Esh. 21. Eric Parker. 22. Adam Lyman DNS – Cody Fletcher.