PIAA NOTES: Despite opposition, move to reduce wrestling weight classes takes step forward
TOM REISENWEBER
Erie Times-News (TNS)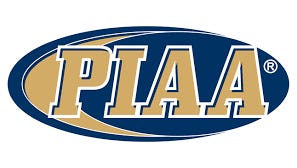 The PIAA took one more step toward reducing wrestling weight classes from 14 to 13 on Monday during its latest board meeting.
The PIAA watched a presentation by several lawyers and heard from former Edinboro athletic trainer George Roberts, who is a member of the National Athletic Trainers Association Hall of Fame, regarding the idea of reducing the number of classes. The group was strongly against the reduction and cited health and safety of the wrestlers as two of the reasons.
The new weights would be 106, 113, 120, 126, 132, 138, 145, 152, 160, 172, 189, 215 and 285 — essentially eliminating the 182-pound class. Having 13 weight classes will make it easier to break ties in dual meets.
Opponents highlighted the 17-pound gap left between 172 and 189.
The PIAA Sports Medicine Advisory Committee met June 1 and "unanimously agreed that there was no medical reason not to accept the recommendation" of the PIAA wrestling committee.
After the presentation, the board approved a motion to reduce the weight classes from 14 to 13 on a second-reading basis. The board will need to approve it one more time in July for it to take effect.
COVID-19 talk: There was little discussion about COVID-19, but Lombardi said that the reaction to Gov. Tom Wolf's high school sports guidelines has been "overwhelmingly positive."
He said that some schools have started to work out with protocols in place, but most are still working through the protocols to be board approved.
Playoff brackets: The PIAA approved all playoff brackets for the upcoming cycle on a third-and-final reading basis except for basketball.
The basketball brackets were approved on a first reading basis because of how late the new classes came out this spring. The PIAA is likely to suspend protocol in July to get the basketball brackets approved, meaning any recommendations for changes from the public or schools must come before the July meeting.