WHITE: PIAA's new two-game suspension rule deserves flag for unnecessary roughness
MIKE WHITE
Pittsburgh Post-Gazette (TNS)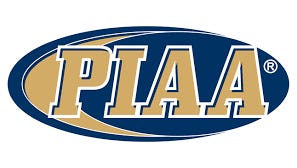 The PIAA instituted a new "supplemental suspension" rule for all sports this school year, and the rule can be as hard hitting for a football player as a tackle from an intense middle linebacker.
The new rule cost one of Chartiers Valley's top players about half of his senior season.
I'd like to throw a flag on the PIAA for unnecessary roughness. That rule should've been under further review during COVID-19 times.
Donovan O'Malley is a senior tight end-linebacker for the western Pennsylvania team and one of the Colts' leading tacklers. He is an example of how rough the rule can be for a player, especially a senior. In the first three minutes of Chartiers Valley's game against Aliquippa Oct. 9, O'Malley got into a minor skirmish with Aliquippa junior Isaiah Gilbert. It lasted for a few seconds after a Chartiers Valley offensive play and didn't seem like much of a big deal. But an official ruled that punches were thrown and both players were subsequently ejected.
The official who made the call actually misidentified the Aliquippa player and the incorrect player was ejected. That error was corrected later, but that's neither here nor there.
New rule: The big thing is the new rule.
Under old PIAA rules, players ejected from a game are ineligible for that game and also the next. But a new rule passed by the PIAA this summer can add a "supplemental" extra game suspension if a coach or player is ejected for "confronting, contacting or addressing a coach, contestant or official using foul or vulgar language, ethnic or racially insensitive comments or physical contact."
The way it goes in the PIAA is when a player is ejected from a game, the referee must file a report with the PIAA and supply reasons for the ejection. Originally, Chartiers Valley thought O'Malley would be suspended for only one game. But upon seeing the report, the PIAA notified Chartiers Valley and Aliquippa that O'Malley would be suspended for two games because of the "physical contact" part of the rule. In other words, the official claiming punches were thrown triggered the supplemental suspension.
Player will miss almost half of season: So, O'Malley and Gilbert had to miss almost the entire game, plus last week's game — and this Friday's game. Due to the COVID-19 pandemic, high school teams in Pennsylvania are playing shortened seasons. WPIAL football teams are scheduled for only seven games. For O'Malley, he will miss about three games, which is almost half of his senior season.
I applaud the PIAA for wanting to do something to curb the poor conduct and vulgar language toward officials and even opposing players in high school sports these days. It is a growing problem — and disgusting at times, especially when it comes from the fans. And fighting shouldn't be tolerated. But with the shortened seasons, the PIAA should have waited a year to institute the extra game suspension for football players, unless behavior was way over the edge. I was at the game. That wasn't the case with O'Malley and Gilbert.
Football a different animal: I say the rule should've been reconsidered for football because it plays many fewer games than other sports.
"The only thing I can say is there should be some discretion involved," Aliquippa coach Mike Warfield said. "That kid from Chartiers Valley lost almost half of his senior season over something that was really nothing. I think every situation is different and they should maybe look at the tape.
"I could see if this was a situation with an all-out brawl that might deem a two-game suspension. This wasn't that. I just think when you write something in stone, you take away people's discretion. There needs to be some discretion and sometimes take it case by case. I've worked dealing with the criminal justice system. Our justice system has more compassion for kids than athletics sometimes."
WPIAL executive director Amy Scheuneman said the league office has received "four or five cases a week" where the PIAA's two-game suspension rule is slapped on an athlete in various sports. So, O'Malley and Gilbert aren't the only ones affected by this new rule.
But get this: Chartiers Valley's game Friday against New Castle was almost canceled because of a COVID-19 case at New Castle. It is now on, but if that game was canceled, O'Malley's two-game suspension would've carried over to Chartiers Valley's first-round playoff game.
Appeal denied: PIAA executive director Bob Lombardi said Chartiers Valley appealed the "supplemental" suspension.
"There are two instances for appeals — misapplication of the rule or misidentification. This was neither one," Lombardi said. "It's an unfortunate situation, but the simple fact is people are tired of people acting badly. If you act in an unsportsmanlike manner and fight, the penalty is strong because we don't want that going on. ... Maybe this is a lesson learned."
Lombardi is right. It's just that it would've been better for the PIAA to consider the times and wait a year for the two-game suspension rule in football. It's too much during a short season.