PIAA discusses 'Superclass' option in basketball, football for next two-year cycle
TOM REISENWEBER
Erie Times-News (TNS)
MECHANICSBURG — The PIAA might explore an option for a seventh class, named the "Superclass," in basketball and football if the membership wants it in the next two-year cycle.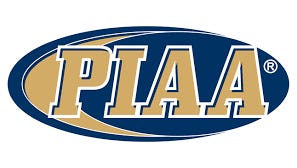 The PIAA held its latest board of directors meeting on Wednesday at the PIAA office in Mechanicsburg and passed the idea to survey the schools on a second reading. If the idea passes a third and final reading in January, the PIAA will survey the membership to see if there is any interest in a "Superclass." Teams would play in the seventh class based on the success formula, or if they wanted to play up from their enrollment class.
The idea was recommended by the PIAA competition committee, which met last month and before the board of directors meeting on Wednesday.
Other items:
►Another big discussion item from the competition committee was the new transfer rules. As the rules are written, an athlete that transfers schools after completing more than 50 percent of a season, is ineligible for the playoffs for one year.
It was pointed out that a student could transfer the minute the regular season is over, and that one year would be up before the postseason at their new school the following year. The PIAA voted to change the language to say the athlete would be ineligible for the playoffs in the subsequent school year instead of one year.
►One rule that was discussed came up at the District 10 meeting on Monday. As it stands, an administrative transfer between schools in the same district does not have to be approved by a district committee and would not make the athlete ineligible for the following postseason.
A change in the rule could come in the future as the PIAA continues the discussion.
►PIAA Class 4A boys soccer champion Wilson was forced to forfeit all of its wins, including the state championship, after it was discovered they were using an ineligible player all season. Wilson self-reported the violation and asked for a hearing to discuss the situation as the player violated the age rule. The PIAA board denied the request, and the PIAA no longer has a Class 4A boys soccer champion for 2018.
Tom Reisenweber can be reached at 870-1707 or by email. Follow him on Twitter at twitter.com/ETNreisenweber.