After PIAA sitdown, superintendent feels public schools have 'strong mandate' for change
CHRIS HARLAN
(Greensburg) Tribune-Review (TNS)
Public school officials met with PIAA officials on Wednesday.
The public school officials are pushing for separate playoffs for boundary and nonboundary schools.
The public officials received pushback from the PIAA on several fronts in the public-private debate.
Catholic schools also expressed opposition to having separate playoffs.
Rather than debate from a distance, the PIAA met face to face with critical public school administrators who've waged a months-long campaign demanding separate playoffs for private schools.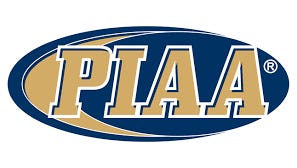 Laurel superintendent Leonard Rich, Mill Creek superintendent Bill Hall and New Castle attorney Larry Kelly accepted the PIAA's invitation and addressed the competition committee Wednesday in Mechanicsburg. The meeting proved just how far their grassroots effort had come, Rich said.
"If you think about this, in May this was a couple of guys talking … and today we're before the competition committee," Rich said. "So we're there. We're at the table. The discussions are happening. None of those discussions today would have happened had we not begun our own little conversation."
The public school advocates argued that boundary schools (traditional public) shouldn't be forced to compete with non-boundary schools (private, parochial and charter) that can draw students from multiple districts.
The administrators encouraged the PIAA competition committee to adopt a six-classification format that would separate traditional public schools into Class A, 2A, 3A and 4A, while private, parochial and charter schools compete in Class 5A and 6A.
PIAA pushback: The administrators received pushback from the PIAA committee on several fronts, including whether state law would allow such a split.
The PIAA also expressed concerns about how to define a boundary or non-boundary school when some public schools allow outside students to attend through vocational/agriculture programs or pay tuition, and others have co-ops with private schools.
A mandate? But Rich said he drove home Wednesday believing momentum was on the public schools' side.
"When you're talking about 75 or 80 percent of the PIAA membership — and 90 to 95 percent of those bodies approve of what we're doing — it's a pretty strong mandate," Rich said. "The Catholic schools wouldn't have been there today had they not been worried."
"Asinine comparison?" Sean McAleer, Director of Education for the Pennsylvania Catholic Conference, also addressed the committee. Rich was struck by McAleer's comparison that the public schools' demands would be akin to the Steelers asking the NFL to change divisions if the Baltimore Ravens won too much.
"It was an asinine comparison," Rich said. "I thought a better comparison would be the Pittsburgh Steelers youth flag football team not wanting to play the Baltimore Ravens. … It was ridiculous."
Rich, Hall and Kelly were part of a public school panel that organized the PIAA Playoff Equity Summit in State College in July. The three testified in September before the State Athletic Oversight Committee at Heinz Field.
Going to state legislature? If the PIAA won't act, they hope the state legislature will.
Their next step could be another summit to update public school administrators. In the meantime, the state's public schools will receive an email update from them detailing Wednesday's committee meeting, Rich said.
"I wouldn't be surprised if in the next session of the Pennsylvania state legislature, somebody produces a bill to try to address the issue," Rich said. "I think we're getting that close, where somebody is going to take the bull by the horns. I don't know if it will get passed — it's a long shot — but we'll keep moving the ball forward."
Chris Harlan is a Tribune-Review staff writer. You can contact Chris at charlan@tribweb.com or via Twitter @CHarlan_Trib.