PIAA again states opposition to possibility of separate playoffs, urges cooperation
ED PALATTELLA
Erie Times-News (TNS)
PIAA officials have repeatedly expressed opposition to separate playoffs.
In a statement on Friday, the PIAA urged cooperation to improve competitive balance.
A meeting is still planned for Tuesday to discuss inequity in the state playoffs.
The Pennsylvania Interscholastic Athletic Association is reiterating its opposition to separate playoffs for "boundary" and "non-boundary" schools.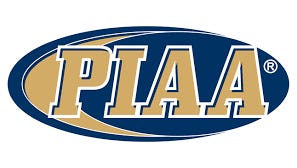 It is also asking for cooperation as officials from 137 public school districts, including 10 in Erie County, prepare to meet on Tuesday to discuss the creation of a separate playoff system and possibly replacing the PIAA as the governing body for high school sports statewide.
The PIAA said it is addressing the concerns about the competitive balance between high schools by passing a number of rules tightening student transfers. The 31-member PIAA board approved the most recent changes at its summer meeting in State College on Wednesday.
"It is far more reasonable and favorable to everyone if we work cooperatively to improve competitive equity that is fair to all students and schools," PIAA board President James Zack said in a statement on Friday. "It's what PIAA has been doing for the last 105 years, and what we will continue to do."
Zack, who is also superintendent of the Shamokin Area School District, southwest of Bloomsburg, said the "PIAA recognizes the challenges of having member schools compete against each other."
"The lack of enrollment boundaries, success and perceived competitive advantage over other schools are major issues of which the board of directors is well aware and actively pursuing equitable resolution," he said.
The PIAA, in its own statement, said it "will continue to take steps to address these issues. While some have proposed separate public and private tournaments, the board of directors firmly believes that segregation is not the answer."
Tuesday meeting still planned: Unsatisfied with the PIAA's response, superintendents and other public school officials still plan to meet on Tuesday in State College for an "equity summit" to discuss a proposal for separate playoffs and a move to replace the PIAA. One of the officials leading the effort is Millcreek Township School District Superintendent William Hall.
Hall and leaders in a number of the state's 500 school districts want separate playoffs for football and girls and boys basketball. They argue the split is needed to account for competitive differences between boundary schools, such as traditional public schools, whose students must come from defined geographic regions, and non-boundary schools, such as charter, parochial and private schools, which can draw students from anywhere across the state or even out of state.
A total of 301 representatives from 137 school districts, or 27 percent the total number of districts, have registered to attend the meeting, said Stuart Albaugh, superintendent of the superintendent of the Harmony Area School District in Clearfield County.
Inequity to be discussed: At the meeting, according to an email from organizers, officials will discuss "the current inequity in PIAA playoffs" as well as the possibility of creating separate playoffs. Other topics on the agenda are "the leadership of the PIAA, and the possible formation of a separate entity to provide a fair, equitable playing field for all students and schools in Pennsylvania if appropriate action is not taken by either the PIAA or through legislation."
The PIAA has declined to discuss separate playoffs, citing the 1972 state law that opened membership of the PIAA to non-public as well as public schools. The PIAA also said it has approved 10 amendments to its bylaws in 2017-18 to impose stricter rules for athletic transfers.
On Wednesday, for instance, the PIAA board approved a change that requires students in any sport to sit out the playoffs for a year if they transfer schools any time in their high school career after playing a sport during or after 10th grade, with some exceptions. The transfer rule is effective Aug. 6.
The PIAA on Wednesday also approved a competitive-balance formula, effective in 2020-21. It will require schools that consistently excel in the playoffs and that have a large number of transfers to move up a classification and play larger schools.
PIAA releases stats on state champions: The PIAA on Friday released statistics that show public schools, or boundary schools, have won 77 percent of the PIAA championships in all sports since 1972 and "schools of choice," or non-boundary schools, have won 23 percent.
Statistics distributed at the PIAA meeting on Wednesday included those percentages, and showed that, between 2008-09 and 2017-18, boundary schools won 66.9 percent of the championships in all sports and non-boundary schools 33.1 percent.
Also between 2008-09 and 2017-18, according to the statistics, the winners of the football championships were split at 50 percent between public schools and non-boundary schools.
In boys basketball, non-boundary schools won 63.6 percent of the championships and boundary schools 36.4 percent during that period. In girls basketball, non-boundary schools won 59.1 percent of the championships and boundary schools 40.9 percent.
Football, basketball most at issue: The discussion of separate playoffs has focused on football and boys and girls basketball, the sports with the highest profiles in the PIAA.
The PIAA on Friday outlined what would be required for schools to form another athletic-oversight organization, which the state Public School Code now identifies as the PIAA. No school is required to join the PIAA, the PIAA said in a statement, but "should a school wish to form its own organization, that school must train and certify its own officials, develop its own rules, get its own insurance and defend any litigation brought against the school."
Commenting on the current debate, Zack, the PIAA board president said, "Through the process of representative democracy that allows all constituencies their voice at the board level, we believe co-operation, not discrimination, is the correct path to find solutions to make competition equitable."
Ed Palattella can be reached at 870-1813 or by email. Follow him on Twitter at twitter.com/ ETNpalattella.