HOUSEHOLDER: Area driver Lance Dewease headed to National Sprint Car Hall of Fame
BRYAN HOUSEHOLDER
505-5403/@ydsports
Lance Dewease will be inducted into the National Sprint Car Hall of Fame.
Joining Dewease this year are Bryan Clauson and David Steele.
Dewease has earned 327 sprint-car wins. That is second among local drivers, behind only Fred Rahmer.
Longtime local racer Lance Dewease will be one of the drivers inducted into the National Sprint Car Hall of Fame this year.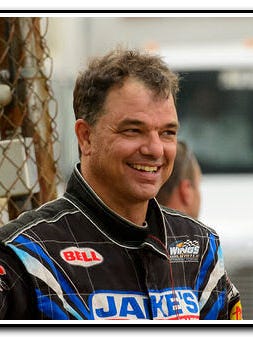 Other drivers in this year's induction class are Bryan Clauson and David Steele.
Dewease began his sprint-car driving career in the early 1980s after several years racing micro sprints. Dewease's career started in his own cars, but over the years he has driven for some of this area's best-known car owners, including Al Hamilton, Joe Harz, Walter Dyer, Michael Heffner and many others. For the past two seasons he has driven for former driver Donnie Kreitz Jr.
Last season in the Kreitz car, with legendary mechanic Davey Brown, Dewease won 12 races, including some of the area's biggest events. Since its formation, the team has been dubbed, the "Hall of Fame team," and now, with Dewease joining Kreitz and Brown in the National Hall of Fame, the moniker is fully accurate.
Dewease is ranked second only to Fred Rahmer in career sprint-car wins among local drivers. Dewease has won 327 times in sprint-car competition. Rahmer has 420 sprint-car wins.
Dewease has also won championships at most local tracks, including Williams Grove, Port Royal, Lincoln, Selinsgrove and Susquehanna speedways. He has also claimed the overall local title several times. He has won most of the area's biggest races, including the Williams Grove National Open, Port Royal's Tuscarora 50 and Lincoln's Dirt Classic.
Among Dewease's 327 career wins are 12 with the World of Outlaws and 31 with the All Stars.
PIT STOPS
Atlantic City races: This weekend, indoor auto racing moves to Boardwalk Hall in Atlantic City for the Gambler's Classic.
A total of $5,000 will await the winner of Saturday evening's feature for the three-quarter midgets.
The Atlantic City event is the longest running of the area's indoor racing events. A staple in the 1960s and 1970s, the event ended when Boardwalk Hall, which once hosted the Miss America Pageant, was renovated in the early 1980s. The event was revived in the early 2000s and has been going strong ever since.
In addition to the three-quarter midgets, the champ karts and slingshots will be in action at Atlantic City, with racing programs on Friday and Saturday evenings.
ARCH banquet: The Auto Racing Club of Hagerstown hosted its annual banquet last Saturday at the Hagerstown Elks.
ARCH presents sportsmanship awards to drivers from each track it visits during the year, in addition to many other special awards. The event winds up with two Hall of Fame presentations.
The usual Hall of Fame inductions include one living member and one deceased inductee. This year was a tear jerker. The living inductee died in December just a few weeks before the banquet.
Ray Welsh was a longtime area race official who had once even promoted races at the Cumberland, Maryland, facility. Welsh also spent many years in the scoring stand at Hagerstown, in addition to his duties at tracks such as Cumberland, Bedford and others.
It was at Hagerstown that I first met Welsh many years ago. A finer gentleman you could never meet.
His passing left a void that may never be filled. Fortunately, before his death, Welsh had been informed of his upcoming induction into the Hall of Fame at a club he had been very involved with during his lifetime.
The other ARCH Hall of Fame inductee was late former racer Charles "Pee Wee" Pobletts. "Pee Wee" raced the stock cars that preceded today's sprint cars on the local circuit. The "bug" he built as those cars took over the local tracks is one of the first race cars I truly remember. It was a red, cut-down coupe, with Pobletts' traditional No. 46. The car was powered by a Pontiac engine and sported an eye-catching lighted Pontiac Chieftain hood ornament.
A winner at most of the local tracks in the latter part of his career, Pobletts raced more southern tracks early in his career. He was a Maryland champion in the early 1950s and once finished sixth in the national NASCAR modified standings. He retired after the 1964 racing season at the urging of his wife Fern, after several top racers were seriously injured.
Limited-late-model racer Alan Sagi presented "Best In Show" awards for good-looking race cars last season. The awards are named in honor of Sagi's father, Frank, who was the longtime voice of Hagerstown Speedway. Cody Fletcher's 358 sprint car won the open-wheel award, while Trevor Feather's car took the late-model award. Manchester's Randy Christine Jr. won the limited-late-model award and York's Kevin Seigler won the stock-bodied, stock-car award.
Alan Sagi, himself, was honored several times during the banquet. He won the ARCH Favorite Driver Award for the limited-late-model class and shared the ARCH Tribute Award with Bedford promoter Joey Padula III. Sagi was also given the "Boney" Bonebrake Award.
Other Favorite Driver winners included Gary Stuhler in the late models and Alysa Rowe in open wheel.
Former ARCH president Dave Loss was given the "Chubb" Shadle Memorial Award.
Reach Bryan Householder at sports@yorkdispatch.com.