HOUSEHOLDER: Lance Dewease can win 'Triple Crown' of central Pennsylvania dirt-track scene
BRYAN HOUSEHOLDER
505-5403/@ydsports
Lance Dewease can win local racing's "Triple Crown."
Dewease has already won Port Royal's Tuscarora 50 and Lincoln's Dirt Classic.
The final leg of the "Triple Crown" is Saturday's National Open at Williams Grove.
After Lance Dewease drove to victory in Saturday's Dirt Classic at Lincoln Speedway, many area fans are abuzz with the talk of a "Triple Crown."
Dewease has won more than $78,000 this month and there is still one very big race to go.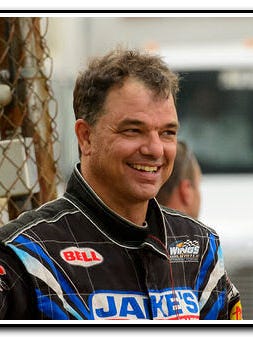 The Williams Grove National Open is on tap for this weekend, and Saturday's race there offers another $50,000-to-win purse. In the overall scheme of things in this area, the three biggest races of the season are the Grove's National Open, Port Royal's Tuscarora 50 and Lincoln's Dirt Classic. Dewease has won the first two. Can he win this weekend to score the "Triple Crown" sweep?
With the way Dewease has been running of late, he certainly stands a good chance. Of course, Dewease isn't a one-man gang. His team has been dubbed either the "Hall of Fame Team" or the "Dream Team."
As far as the National Open at Williams Grove goes, Dewease has won the race three times. His car owner, Donnie Kreitz Jr., also won the race as a driver. Then there is the crew chief. Davey Brown Sr., 84, who has seen his cars in victory lane seven times at the National Open.
I've heard that The Beer Hill Gang is searching for a crown to crown the Triple Crown winner. They could well need it.
The National Open weekend starts Thursday with a full World-of-Outlaws program, plus the make-up of the $20,000-to-win Summer Nationals feature that was rained out in July. Friday is another full World-of-Outlaws program, and then on Saturday it's the National Open itself.
Points will be awarded at both the Thursday and Friday shows to set the line-ups for Saturday's races.
PIT STOPS
Other races: Trailway Speedway presents "Thunder on the Farm," with a late Saturday afternoon start time.
The limited late models, street stocks, Trailway street stocks and limited stocks compete.
Bedford has a big two-day, late-model event this weekend.
Lincoln, Port Royal and Susquehanna take the weekend off for the National Open, while Hagerstown has a 70th Anniversary Celebration Nostalgia Day, with vintage racers and All American Outlaws on Saturday.
Plenty of other activities dot the show at Williams Grove during the National Open, including an auction for the National Sprint Car Hall of Fame and the Eastern Museum of Motor Racing, and an auction for the various injured drivers' funds.
Dirt Classic note: It was announced during the drivers' meeting at Lincoln's Dirt Classic on Saturday that next year's event will have even more money on the line.
This year the Dirt Classic paid $20,000 to win and $1,000 for last place. Next year it will be $25,000 to win and $1,500 to start, with added money at every position.
Point standings: After several seasons where the point leader ran away with the overall local season points race, this year is turning into a real barn-burner.
In the Champion Racing Oil/BR Motorsports Central Pennsylvania Sprint Series point battle, things are really tight.
When racing started last weekend with the Thursday night show at Susquehanna, Lucas Wolfe held a 10-point lead over Danny Dietrich. Dietrich won at Susky, while Wolfe was fifth, which sent Dietrich to Williams Grove with a 20-point lead.
Wolfe finished third at the Grove, while Dietrich was 10th. The two drivers left Williams Grove tied for the point lead.
At Lincoln, Dietrich finished second, while Wolfe was third, so now Dietrich holds a five-point lead over Wolfe.
1972: With the local season winding down in 1972, it was a four-race weekend on the local circuit.
The USAC wingless sprints visited Williams Grove on Friday night with Lee Kunsman scoring the win.
Lincoln raced on Saturday that weekend, with Williams Grove having double features on Sunday. It was a very productive weekend for "that Hippie from California," with Jan Opperman winning all three races in the Bogar No. 99. Opperman's three-win weekend pushed his season total to 38.
Bryan Householder writes about dirt-track racing for The York Dispatch. He can be reached at sports@yorkdispatch.com.
2017 CHAMPION RACING OIL
BR MOTORSPORTS
CENTRAL PENNSYLVANIA SPRINT SERIES
PRESENTED BY HOSEHEADS.COM
1. 48/13 Danny Dietrich 1359 11
2. 24 Lucas Wolfe  1354 8
3. 27 Greg Hodnett  1068 6
4. 3z/58 Brock Zearfoss 960 6
5. 69k Lance Dewease 956 11
6. 51 Freddie Rahmer 929 6
7. 21 Brian Montieth 840 3
8. 1/55 Dale Blaney  507
9. 11 T J Stutts  500
10. 87 Alan Krimes  441
11. 39 Cory Haas  420
12. 5 Dylan Cisney  371
13. 44 Trey Starks  339 2
14. 25 Aaron Ott  338
15. 16 Matt Campbell 317 1
16. 16 Gerard McIntyre Jr 314 1
17. 07 Doug Esh  285 2
18. 12 Blane Heimbach 264 1
19. 55 Mike Wagner  255
20. 0 Rick Lafferty  242 1
21. 94 Ryan Smith  228
22. 3 James McFadden 223
23. 17B Steve Buckwalter 213 1
24. 1x Chad Trout  210
25. 88 Brandon Rahmer 206