HOUSEHOLDER: 'Hall of Fame Team' keeps on rolling
BRYAN HOUSEHOLDER
505-5403/@ydsports
Lance Dewease had started four sprint-car races this season, winning three.
Two of those victories came against the touring All Stars.
Dewease, car owner Donnie Kreitz Jr. and mechanic Davey Brown are all Hall of Famers.
It appears that the "Hall of Fame Team" hasn't slowed down one bit.
In fact, if anything, the sprint-car team may have gotten even better.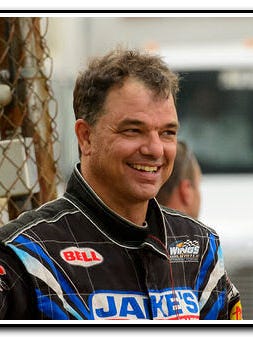 When driver Lance Dewease joined former driver-turned-car-owner Donnie Kreitz Jr. and mechanic Davey Brown last year, it produced a tremendous season.
This year has started even better.
The three Hall of Famers have raced just four times so far this season. The first race was at Susquehanna Speedway, where the team finished third. Since then, the team has won all three features it's entered — twice at Williams Grove Speedway and once at Port Royal Speedway. The last two have come against the All Stars.
At Port Royal, driver Dewease scored his 101st career win there. That's second only to Keith Kauffman. The race at the Port was known as the Keith Kauffman Classic, and the legendary driver was on hand to watch Dewease score the win. Of course, Kauffman's record at the Port probably isn't in jeopardy. Counting his two late-model wins there, Kauffman owns 131 wins at the Port.
At Williams Grove the story is a lot different. Dewease's win Friday there was his 87th career Grove win. That's second only to Fred Rahmer, but Rahmer's career total is 90. Dewease is just three wins shy of the career record for sprint-car wins at the Grove.
Ironically, it was young Freddie Rahmer who gave Dewease a very spirited battle for Friday's win.
While Dewease's win total at the Grove stands at 87, the rest of the team isn't too shabby there either. Car owner Kreitz has won 61 sprint-car features at the Grove, as a driver.
As I've said many times, we'll probably never figure out just how many wins mechanic Davey Brown has in his career, but just a rough check shows Brown at about 150 career Grove wins as a mechanic. So that means this team has about 300 career Grove wins among them.
DIRT TRACK RACING: Dietrich sets record in Lincoln win
PIT STOPS
Fish Fry: The Gary Wolfrod Fish Fry is on tap this Sunday at the Latimore Valley Fairgrounds, home of the Eastern Museum of Motor Racing.
This will be the first time the Fish Fry has been held without Wolford on hand. Wolford started the Fish Fry at his shop many years ago and has presided over every one until his death last year.
When the event got too big for Wolford's shop, he presented it as a fundraiser for the museum. There is no official charge for the fish and fries at the Fish Fry, but a donation to the museum is the charge for the day of fun.
In addition to the food and fellowship, the Fish Fry has become known for its "Blindfold Race." Four teams compete in a race with junk cars around the fairgrounds oval. The catch is, the driver is blindfolded for the event, and the teams switch drivers at mid-race.
This year's teams include a female team of Williams Grove and Lincoln chief scorer Tena Shaffer, along with drivers' wives Dana Montieth and Gloria Wilbur. There are also a super-sportsman team of drivers Carmen Perigo Jr. and Steve Wilbur, a modified team of drivers Ryan Watt and Shawn Fitzpatrick and a sprint-car team of driver Brian Montieth and retired driver Fred Rahmer.
Things start at 9 a.m., with the race in mid afternoon.
This weekend: The York County Racing Club has two club nights this weekend.
Friday at Williams Grove, club members get a discount for the show of sprints and 358 sprints. The sprint cars at the Grove will be competing in another Yellow Breeches 500 event with $500 for last place in the feature.
Saturday, the YCRC members get a discount at Lincoln Speedway for the show of sprints, 358 sprints and legends.
Other Friday shows this weekend include Trailway, where the 358 sprints, 270cc micro sprints and street stocks compete, and Path Valley, where the wingless super sportsmen will be in action.
Also on the Saturday slate are Port Royal, where the sprints, late models, econo late models and Xtreme stocks will run; Selinsgrove, where the 360 sprints, late models, pro stocks and roadrunners will race; and Hagerstown, where the late models, late-model sportsmen, pure stocks, hobby stocks and crate late models will be in action.
Susquehanna has a two-race weekend. Saturday, the super sportsmen, limited-late models, street stocks and Penn Mar vintage cars are in action. Then on Sunday evening, after the Fish Fry, it's the Kevin Gobrecht Memorial Race for the sprint cars. This year Kevin would've celebrated his 48th birthday, so this year's event will pay $4,800 to win and $480 to start. The 358 sprints are also on the program.
Starks triumphs at Bedford: Trey Starks drove to victory in the All Star sprint feature at the Bedford Fairgrounds Sunday evening.
The $5,000 win marked the first East Coast 410 sprint win for the young Washington state driver, who pilots a car owned by Scott Gobrecht, who also owns Susquehanna Speedway.
Starks started third and took the lead from pole-sitter Lucas Wolfe on a third-lap restart in the 25-lap event. Starks then drove away from the field. Wolfe and sixth-place starter Dale Blaney waged a nearly race-long battle for second. Blaney won out in the closing laps, with Wolfe having to settle for third. Tim Shaffer and Friday night Lernerville winner Dan Shetler completed the top five. Rounding out the top 10 were Cole Duncan, Caleb Helms, Josh Baughman, Billy Dietrich and Spring Grove's Greg Hodnett.
1972: With the exception of a feature rain out at Susquehanna Sunday, this was a full weekend of racing in the area in 1972.
Friday, Wrightsville's Bobbie Adamson put Al Hamilton's No. 77 in Williams Grove's victory lane for his second win of the season. Meanwhile, at Bedford, it was Lynn Paxton scoring his third win of the season in the Emrich Chevy No. 1.
Saturday evening, Kenny Weld made it two in a row at Lincoln with Bob Weikert's No. 29. He then added a Hagerstown win on Sunday to bring his season total to seven.
Lee Osborne drove the No. 81 to his first win of the season on Saturday at Selinsgrove, while at Port Royal it was Jan Opperman getting his eighth overall win of the season in the Bogar No. 99. Jennerstown also started its schedule of Saturday racing with Ohio driver Ted Wise picking up the win.
Bryan Householder writes about dirt-track racing for The York Dispatch. He can be reached at sports@yorkdispatch.com.
2017 CHAMPION RACING OIL
BR MOTORSPORTS
CENTRAL PENNSYLVANIA SPRINT SERIES
PRESENTED BY HOSEHEADS.COM
1. 48 Danny Dietrich 308 3
2. 24 Lucas Wolfe  239 1
3. 07 Doug Esh  231 2
4. 21 Brian Montieth 225 1
5. 27 Greg Hodnett  209 1
6. 51 Freddie Rahmer 185 1
7. 1 Dale Blaney  184
8. 3z Brock Zearfoss 183 1
9. 69K Lance Dewease 180 3
10. 87 Alan Krimes  150 
11. 11 T J Stutts  128
12. 16 Gerard McIntyre Jr 113
13. 0 Rick Lafferty  110
14. 25 Aaron Ott  102
15. 39 Cory Haas  95
16. 59 Jim Siegel  81
16. 5 Dylan Cisney  81
18. 16 Matt Campbell 78
19. 17B Steve Buckwalter 74
19. 7w Logan Wagner 74 1
21 44 Trey Starks  68 1
22. 55 Mike Wagner  67
23. 1x Chad Trout  66
24. 5 Chase Dietz  63
24. 20 Ryan Taylor  63