HOUSEHOLDER: Area speedways to honor legendary names from past over Memorial Day weekend
BRYAN HOUSEHOLDER
505-5403/@ydsports
A few area tracks will honor some legendary names from the past over the Memorial Day weekend.
Friday, Williams Grove Speedway will honor longtime car owner Walter Dyer.
Port Royal has a big two-day weekend planned for Saturday and Sunday for the Bob Weikert Memorial.
It's been a very late, and very wet, spring in the area.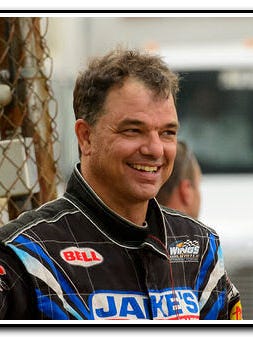 Here we are with the Memorial Day holiday weekend looming. Several tracks will honor some of the area's top names from the past with tribute or memorial races.
In recent years, Williams Grove has taken to honoring living legends of the sport on the Friday preceding Memorial Day. Last year it was driver Van May. This year the Grove will honor longtime car owner Walter Dyer.
It's been a few years now since Dyer's famed "Brickmobile" No. 461 has graced the local ovals, but for many years Dyer fielded some great race cars. From the mid 1960s into the early 2000s, Dyer's car toured the local ovals.
Friday the Grove will honor Dyer with a sprint-car championship race, along with the 305 sprints.
Many of Dyer's past drivers will be on hand to help honor the man. Among those expected are Mike Wagner, Len Thompson, Cliff Brian, Tommy Beavers, Donnie Hill, Tom Stimeley, Steve Siegel, Joey Allen, Van May and Dyer's most successful driver, Lance Dewease. A few other surprise past Dyer drivers may be there as well.
Gene Frankowiak has added to the incentives for racers, offering $100 to each heat winner and $50 to the B-Main winner.
Port Royal has a big two-day weekend planned for Saturday and Sunday for the Bob Weikert Memorial Race. Weikert was one of this area's best-known and most successful car owners, earning a spot in the National Sprint Car Hall of Fame. His famed "Beefmobile" No. 29 racers carried some of the best drivers to some of their best years.
Saturday, the Port will offer $5,000 to win the sprint-car feature and $3,000 to win the Northeast Ultimate Late Model feature. Sunday the sprints will race for $10,000 to win, while the NULM late models race for $5,000 to win.
BAPS Motor Speedway will honor its founder in its Saturday show. The Bud Bricker Nationals for the super sportsmen, limited-late models and street stocks are on tap.
York's Bricker was part of the team that envisioned and built the York County oval, and went on to become the sole promoter of the speedway during its formative years. From 1954 through 1969 Bricker was at the helm at the Susquehanna Speedway that is now known as BAPS.
Selinsgrove will honor one of its former promoters on Saturday as well. Jack Gunn (actually John Gunnels) promoted a number of local speedways, most notably Williams Grove, but he also was the driving force in bringing Selinsgrove back to life in the early 1960s after it had sat idle for several years.
The 360 sprints will run in the Jack Gunn Memorial Saturday. The late models, pro stocks and road runners also compete.
Lincoln races Saturday with the sprint cars, 358 sprints and legends on the racing slate. Lincoln's Weldon Sterner Memorial Race, rained out three times, has been reset for Saturday, June 2.
Trailway gives the bigger cars a week off to offer up the Maxxis Tire Go Karts on Saturday with a Sunday rain date.
Hagerstown has the Hub City event for the Mason-Dixon Limited Late Model Series on Saturday. Also on the racing program are pure stocks, hobby stocks and Classic Race Cars.
The wingless super sportsmen race at Path Valley on Friday.

1984: The holiday weekend in 1984 almost entirely beat the rain.
The first five nights of racing made it into the record books before Monday action was washed out. The World of Outlaws were in the area for that weekend, and there was plenty of racing.
Things actually kicked off Wednesday evening with an unsanctioned event at Port Royal that was won by Bobby Davis Jr.  Davis, who had won the Williams Grove point title the previous season driving for Bob Weikert, was back on the Outlaw trail that season in the Consolidated Credit No. 6.
That was followed by four days of Outlaws action that all had the same end results. Thursday and Friday at Williams Grove, Saturday at Lincoln and Sunday at Hagerstown all saw the same winner. Steve Kinser, in cousin Karl Kinser's No. 11, won all four events.
Keith Kauffman salvaged his weekend with his 15th win of the season on Saturday at Port Royal. Kauffman was driving Al Hamilton's No. 77.
At Selinsgrove that Saturday, veteran racer Barry Camp scored his first win of the season in Frank Campbell's Camel Express No. 26.
Williams Grove also had an unsanctioned race on Sunday. I can't remember for sure, but I'm guessing it was an afternoon show preceding Hagerstown's evening race for the Outlaws. Outlaw regular and former frequent local visitor Brad Doty won that one. 
Lincoln and Port Royal had both planned Memorial Day Monday races, but they were rained out.
Bryan Householder writes about dirt-track racing for The York Dispatch. He can be reached at sports@yorkdispatch.com.