Revs salvage final game in battle of division leaders
STAFF REPORT
York improved to 30-22 on the season.
The Revs still have a two-game lead in the Atlantic League Freedom Division.
Joel Guzman had a two-run homer for York, while Michael Rockett added a two-run double.
The York Revolution salvaged the final game of a three-game road series against Somerset on Thursday evening in a battle of Atlantic League division leaders, earning a 5-3 triumph.
Both teams are now 30-23. The victory allowed the Revs to maintain a two-game lead over second-place Sugar Land in the Freedom Division first-half standings. Sugar Land crushed Lancaster on Thursday, 13-4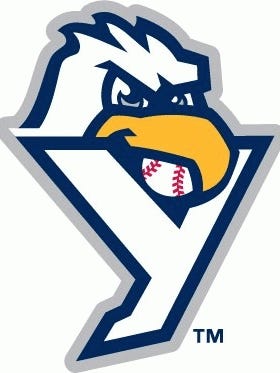 York fell behind 2-0 after the first inning, but tied it up in the fourth, when Isaias Tejeda doubled and Joel Guzman followed with his ninth homer of the season. Guzman has a team-best 35 RBIs on the season. Tejeda leads York with a .342 average.
The Revs took the lead for good in the fifth on an unearned run.
York stretched the edge to 5-2 in the seventh on two walks and a two-run double by Michael Rockett.
The Revs' bullpen did the rest. Mariel Checo (4-1) got the win with two hitless innings of relief. He did allow one one run and three walks. Scott Rice, Ricardo Gomez and Mike DeMark each added a shutout inning, with DeMark picking up his league-best 17th save with a flawless ninth that included three strikeouts.
Frank Gailey started for York, going four innings and allowing two earned runs on just two hits.
Rockett was the only Revs' player to finish with two hits. Josh Wilson scored two runs.
York totaled just six hits, but the Revs' pitchers allowed just three hits.
Trade: Before the game, the Revs traded pitcher Kelvin De La Cruz to the Lancaster Barnstormers for outfielder Travis Witherspoon. The Revs also released outfielder James Simmons. Witherspoon was hitting .256 with two homers and 13 RBIs. De La Cruz was 3-6 with a 5.21 ERA. Simmons was hitting .219 with three homers and 14 RBIs.
Arians giveaway: The Revs return home for a six-game homestand, with three games over the weekend vs. Bridgeport, followed by three games vs. the Long Island Ducks. The game times this weekend are 6:30 p.m. on Friday and Saturday and 1 p.m. Sunday. The Friday game will feature a Bruce Arians gnome giveaway. Arians is the head coach of the Arizona Cardinals and a York High graduate. Saturday is Faith and Family Night, featuring an appearance by former NASCAR driver Ernie Irvan. Sunday is Superhero Day.