York Revolution lead slips away in loss at Sugar Land
STAFF REPORT
SUGAR LAND, Texas — Frank Gailey turned in seven strong innings in his second start of the season, but the York Revolution fell to the Sugar Land Skeeters 5-4 on an eighth inning rally in their series opener at Constellation Field on Friday night.
The Revs fall to a league-best 28-20, as their Freedom Division lead shrinks to 2.5 games over idle Lancaster and three games over the Skeeters.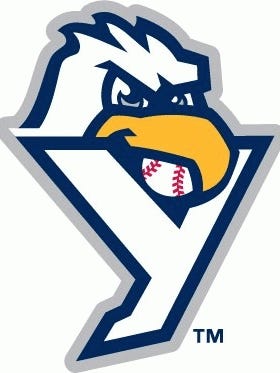 York built a 4-0 lead early in the game.  The Revs scored twice in the second inning by way of an RBI double off the left field fence from Josh Wilson, and a two-out error on Skeeters starter Aaron Thompson, who mishandled a ground ball from Jason Repko allowing a run to score.  Then with two outs in the fourth, Isaias Tejeda drilled a line drive two-run homer to left, his fourth of the year, spotting the Revs the four-run advantage.
Gailey breezed through the first three innings, needing just 23 pitches to face the minimum nine batters.  After a five-pitch first, Gailey rolled ground ball double plays to erase leadoff singles in both the second and third innings.
The Skeeters got to Gailey with two outs in the fourth, stringing together four consecutive singles, the final two of which drove in runs off the bats of Delwyn Young and Travis Scott, trimming the York lead to 4-2.
Gailey rebounded to allow just one further hit, giving up two runs on a total of seven hits in seven innings of work.  The lefty walked none and struck out one, using just 76 pitches in a highly efficient performance.
Sugar Land rallied quickly in the bottom of the eighth against reliever Luis Perdomo (0-1), making his season debut after posting a 2.05 ERA for the Revs in late inning relief last season.  Jeff Dominguez sparked the rally with a single to right, and Ricky Hague followed with a single to right-center.  Rene Tosoni then reached on an infield single, as second baseman Andres Perez nearly made a great backhand play up the middle but could not complete a desperation flip to second.  With the bases loaded, a wild pitch brought home Dominguez to cut the York lead to 4-3.  Jeremy Barfield drew a walk to reload the bases, and Young greeted reliever Julio DePaula with a two-run single to right to give the Skeeters their first lead of the night.
York threatened with two outs in the ninth against Skeeters closer Derrick Loop, as Jason Repko reached on an infield single and Tejeda singled to right field.  Kent Matthes' throw from right field to third base skipped away, but Loop saved his own save opportunity by backing up the play, and then retiring Joel Guzman on a fly out to right for his 12th save of the season.
Skeeters reliever Jon Velasquez (2-0) picked up the win with two perfect innings in the seventh and eighth.
Thompson logged a quality start with six innings, giving up four runs, three of which were earned.  The lefty's final two innings were scoreless, as he combined with his bullpen to retire 13 consecutive Revs batters before the two-out rally in the ninth.
Notes: Tejeda (2-for-5) extended his hitting streak to nine consecutive games, one shy of matching his season-best.  York's bullpen had posted a 2.30 ERA since May 17 before Friday night's hiccup.  The Revs fall to 24-2 when leading after seven innings this season.  Owners of 14 comeback wins, it marks just the 10th time the Revs have lost a game in which they led at any point.  At 28-20, the Revs are tied with the 2014 club for best record through 48 games in franchise history.  York righty James Simmons (4-2, 3.80) faces Sugar Land right-hander Parker Frazier (5-2, 4.80) on Saturday night at 7:05 p.m. ET.