Pena stellar for Revolution in 1-0 triumph over Ducks
STAFF REPORT
Tony Pena pitched eight shutout innings and the York Revolution scraped together a late run to beat the Long Island Ducks 1-0 on Tuesday night at PeoplesBank Park.
The Revs (27-18) snapped their two-game home skid, winning their first match-up with the Ducks (24-20) all season.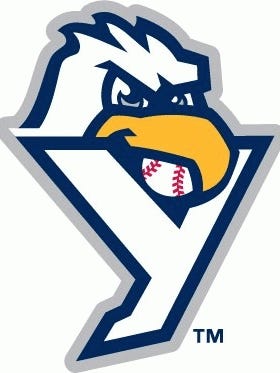 Pena (5-0) outdueled Long Island's Darin Downs (3-3) for the win, needing just 85 pitches to get through eight three-hit innings. Pena walked one and struck out six.
Downs was saddled with the hard-luck loss after allowing a solitary run on five hits in seven innings, walking one and striking out a career-high-tying 11.
Mike DeMark remained perfect with his Atlantic League-leading 15th save of the season.
The game shaped up like a pitchers' duel from the onset. Pena didn't surrender his first hit until the fourth inning. Between the second and third innings he struck out four in a row and came a strike within making it five, instead getting Fehlandt Lentini to ground sharply to third for Bryan Pounds to make a bare-hand pick and throw.
Not to be outdone, Downs retired 12 in a row after giving up a leadoff single to Jason Repko in the first, facing the minimum through four.
York got some offense going in the fifth when Telvin Nash banged a lead-off double three-quarters of the way up the center-field wall. Downs would then buckle down. The league leader in strikeouts notched three in a row of Andres Perez, Alfredo Marte and Pounds to get out of the jam.
Striking out six in his first four innings, Pena switched gears completely in the fifth, using his defense to get all 12 of his remaining outs.
The Ducks got closest to scoring in the sixth when Anthony Vega led off with a single and eventually went to second on a balk. Pena shook off the miscue, however, and proceeded to get three outs, all in the air.
After Pena worked a 1-2-3 top of the seventh, Nash worked a full count for a walk to lead off the Revs' half of the inning and went to second base on a Downs balk. Perez then got a slow roller up the middle, bringing Nash home for the crucial run.
Pena gave up a two-out single to Vega in the eighth but no more, forcing Lentini to fly out to left to end the inning.
DeMark came on for the ninth and got in front of a liner off Dan Lyons' bat for a thrilling first out. He then methodically struck out Ruben Gotay and forced Tyler Colvin to ground out to first, sending the Tuesday crowd of 3,144 home with fine memories of arguably the best pitchers' duel so far this year in the Atlantic League.
Repko notched two of York's five hits, while Perez stretched his hitting streak to a Revs' season-high-tying 11 games (.372, 16-43).
Vega finished with two of Long Island's three hits. Bruce Kern relieved Downs in the eighth and struck out the side, totaling 14 punchouts for Duck pitching on the night.
Notes: At 2 hours 11 minutes, this was the Revs' quickest home game since a year ago when Rommie Lewis shut out Lancaster six minutes quicker. ... It was York's first 1-0 win since last June 29, when the Revs beat Sugar Land at home. ... With his 18th career save with York, DeMark has tied Michael Nix for sixth in Revolution history. ... Pena joins Lorenzo Barcelo (2011) as the only pitchers in Revs history to start a season 5-0. .. The Revs and Ducks will see each other nine more times over the next 23 days, starting Wednesday night, when York's Kelvin De La Cruz (3-5, 4.35) meets Long Island's Bobby Blevins (1-3, 5.44).