York Revolution blanked by Lancaster Barnstormers
STAFF REPORT
The York Revolution got shut out for the first time this season.
Austin Bibens-Dirkx threw six shutout innings for Lancaster.
York dropped to 26-17 on the season, while Lancaster improved to 22-19.
The York Revolution took a home shutout for the first time this season as the Lancaster Barnstormers won 5-0 on Saturday night at PeoplesBank Park. The Barnstormers (22-19) increased their lead over the Revs (26-17) in the War of the Roses presented by PNC Bank to 4-2 this season. The first place Revs now lead both Sugar Land and Lancaster by three games in the Freedom Division standings.
Austin Bibens-Dirkx (3-3) continued his mastery over the York bats with six five-hit shutout innings. He walked three and struck out nine on 107 pitches.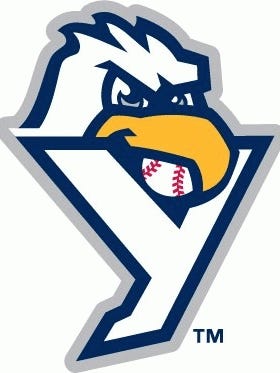 Micah Owings (2-2) ended up on the short side of the decision despite not allowing a hit. He gave up a run after three walks in three innings, exiting after 69 laborious pitches.
After a pair of scoreless innings, the Barnstormers got to York starter Micah Owings for one in the third. Lance Zawadzki and Travis Witherspoon drew back-to-back walks, moving up on a wild pitch. Kevin Ahrens then lifted a flyball to center to plate Zawadzki and make it 1-0.
Lancaster tacked on another in the top of the fifth as Zawadzki took a pitch in the thigh, stole second, and came around to score on Caleb Gindl's two-out single.
Still 2-0 in the ninth, Josh Bell drew a leadoff walk and Sean Halton singled to bring up Mike McDade. McDade unloaded on a 1-0 pitch from Michael Click and sent it soaring over the left center wall, and the three-run shot gave the game its final margin.
The Revs had a plethora of chances early on but failed to get a run home. Isaias Tejeda doubled with one out in the first and Andres Perez followed with a walk, but Telvin Nash and Alfredo Marte each struck out to end the threat.
In the third, Jason Repko took a one out walk and Tejeda banged his second double of the game to move Repko to third, but Perez and Nash whiffed back-to-back and Bibens-Dirkx danced out of trouble again.
Keith Castillo walked and Bryan Pounds singled with one out in the fourth, but Bibens-Dirkx methodically forced Josh Wilson to fly out to left and struck out James Simmons to put out another fire.
York got men on in the fifth and sixth to no avail before Bibens-Dirkx handed the baton to the bullpen. Pete Andrelczyk zoomed through a perfect seventh inning, while Scott Gracey handled the eighth in scoreless fashion, and Ryan Dennick went through the ninth unscathed to lock it down.
McDade's homer was his third of the season and came on a night when he caught behind the plate for the first time since high school.
Tejeda finished 2-for-4 with a pair of doubles, a bright spot on a night when the Revs struck out 12 times and left 10 men on base.
Matt Neil pitched four innings of one-run, two-hit ball in relief of Owings to keep it close.
Notes: York was dealt its first home shutout since last August 9, a 6-0 decision also at the hands of the Barnstormers. Andres Perez singled in the fifth to extend his season-high hitting streak to nine games (.389, 14-36). James Simmons (4-1, 3.89) will face Mike Lee (1-1, 4.58) in the series finale of this edition of the War of the Roses presented by PNC Bank on Sunday afternoon.