Revolution's comeback bid comes up short vs. Somerset
STAFF REPORT
Saturday night's loss was York's first on a seven-game homestand.
Joel Guzman had four RBIs in a losing cause for York.
The two teams meet again Sunday afternoon at PeoplesBank Park.
The York Revolution cooled down after a blazing first two innings and came up just short of another comeback as the Somerset Patriots beat the Revs 7-6 on Saturday night at PeoplesBank Park.
The loss is the Revs' (21-15) first of the seven-game homestand, ending a four-game winning streak, and evens up the series against the Patriots (21-15).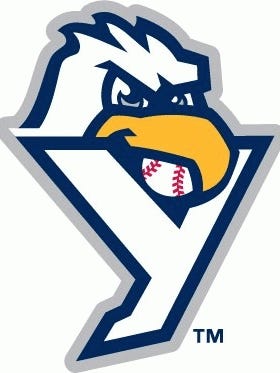 Somerset jumped on Revs starter Kelvin De La Cruz from the onset, as Mycal Jones banged a single off the Arch Nemesis and Aharon Eggleston and Eric Farris followed with bunt singles. Brad Snyder cleared the bases with a double to dead center, and he came home on a Matt Fields single, giving the Patriots a 4-0 lead on the first nine pitches of the game.
The Revs got back into the game just as quickly. Alfredo Marte doubled down the left field line in his first at-bat with the team. With one out, Joel Guzman unloaded on a 1-0 hanger and fired a missile over the Nemesis for his seventh home run of the season, making it 4-2.
The Patriots got one back when Trayvon Robinson led off the top of the second with a home run to straightaway center. In their half of the second, the Revs got going when Josh Wilson led off with a double. After a groundout and a couple walks, Guzman again came through by lacing a single to plate two. Telvin Nash got another home on a sac fly and York drew even at 5-5.
It didn't stay tied long as Robinson and Scott Kelly got a Somerset rally going with one-out singles in the fourth. Jones singled to get one run home, and Kelly and Jones advanced on a double steal moments later, allowing Kelly to score on Eggleston's groundout, making it 7-5.
York inched closer in the sixth when James Simmons singled home Michael Rockett with one out. One run is all they would get, however, as the Revs failed to get the tying run home from third after Marte struck out and Tejeda lined out to center.
Surging Revs beat defending Atlantic League champions
The Revs got a break against all-time Atlantic League saves leader Jon Hunton in the bottom of the ninth as Tejeda reached when Kelly booted a ground ball at short. Guzman struck out to bring up Nash, who cracked a double to the right center gap. Tejeda tried to score on the hit, but right fielder Carlos Guzman got the throw in to Farris at second, whose relay to Yovan Gonzalez at the plate was true to retire Tejeda. Nash moved up to third on the throw, but Andres Perez grounded out to short as the rally came up short.
Darin Gorski (3-1) survived a rough couple innings to earn the win for the Patriots, lasting five innings and retiring the final 11 men he faced. De La Cruz (3-4) was saddled with the loss after giving up seven runs on 11 hits in 5.1 innings. Hunton's save was his eighth of the year and boosts his ALPB-best mark to 136.
Guzman finished 2-for-5 with a season-high four RBIs, while Nash and Simmons each extended their respective hitting streaks to eight games. Marte ended up 1-for-5 with the double and a pair of runs in his York debut.
Jones went 3-for-5 for Somerset with a run, RBI, and pair of stolen bases, stretching his own hitting streak to nine games. Robinson also added three hits, including the home run.
Notes: The loss snaps York's season-high six game home winning streak. Guzman now leads the Atlantic League with 25 RBIs after driving in six in the first two games of the series. Nash's eight-game hitting streak matches a season-high he set with an eight-gamer from April 28 through May 4. With a double in the first, Andres Perez now has 499 hits in a Revolution uniform and 998 as a professional. The Revs will lean on Jorge Martinez (2-2, 2.16) to try and start a new winning streak against the Patriots' Scott McGregor (2-3, 3.46) on Sunday afternoon at PeoplesBank Park.