Simmons' strong effort goes to waste in Revs' loss
STAFF REPORT
James Simmons turned in a superb seven-inning effort, but the York Revolution fell to the New Britain Bees, 1-0 in their series opener at New Britain Stadium on Friday night.  The Revs (16-13) will look to bounce back when they face the Bees again on Saturday evening in central Connecticut.
Simmons (3-1) allowed just one run on four hits over seven innings.  It was his second seven-inning performance in five starts, matching the longest outing by a Revs starter this season.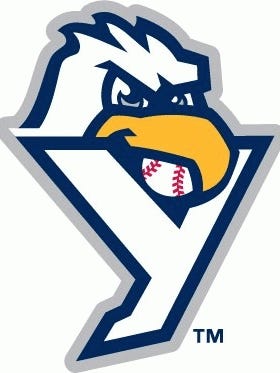 The turning point came in the sixth inning as the Revs were denied in their best opportunity to score.  Telvin Nash led off the inning with a ground ball double down the third base line, and Joel Guzman was hit by the next pitch.  Bees starter Brian Dupra induced a big double play, however, and then retired James L. Simmons on a hot shot to third, picked neatly by third baseman Jovan Rosa to keep the game scoreless at the time.
New Britain scored the game's lone run in the bottom of the sixth, as Jonathan Roof connected on a line drive home run to left, his second of the year, accounting for the 1-0 score.
Dupra (3-0) picked up the win, allowing six hits over six shutout frames.  The Revs fell victims of several hard-hit outs, including five line outs in the first three innings, three of which occurred in the third inning alone.
York threatened in the ninth as Guzman drew a leadoff walk, and with one out, Simmons drilled a deep double to right-center, placing runners at second and third.  Bees closer Craig Stem buckled down, however, recording a strikeout and a fly out to pick up his sixth save, bouncing back after blowing saves in three of his previous four opportunities.
Notes: The Revs fall to 5-3 against the Bees, 3-2 at New Britain Stadium, with both losses coming by 1-0 finals. The winning team has scored fewer than five runs in seven of the first eight games in the season series.  The Revs fall to 7-8 all-time in 1-0 contests, and have lost 1-0 games twice in the same season for the second time (also 2013).  It marks the first time they've lost multiple 1-0 games to the same opponent or in the same ballpark in one season.  Simmons allowed just one run in his other seven-inning performance, May 7 at Southern Maryland, also on a two-out solo homer in the sixth.  He is the first Revs starter to go seven innings twice this season; Jorge Martinez has logged York's only other seven-inning outing.  Michael Rockett (2-for-4) extended his hitting streak to six consecutive games, and is now 9-for-20 on the streak with six hits in his last nine at-bats.  York righty Tony Pena (2-0, 3.37) starts Saturday's contest, opposite New Britain right-hander Cole Johnson (2-2, 1.45) with first pitch at 6:35 p.m.