Tejeda's clutch triple lifts Revs over Barnstormers
STAFF REPORT
Isaias Tejeda came through with a two-out, two-run triple in the seventh inning to help the York Revolution salvage the finale of a four-game series in Lancaster, downing the Barnstormers 4-3 on Thursday night at Clipper Magazine Stadium.
The win is the Revs' first of the season over the Barnstormers (13-14) in this season's War of the Roses presented by PNC Bank. The Revs are 16-12.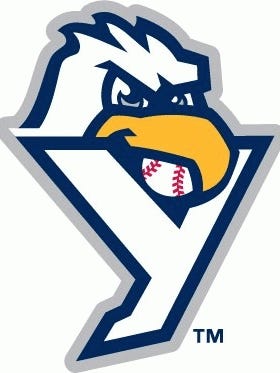 Down 3-2, newcomer Michael Burgess led off the seventh with a single to right. After a couple of outs, Michael Rockett kept the rally going with a single to left. Up came Tejeda, who missed an extra-base hit by inches early in the showdown, with a scorching groundball to left that hooked foul at the last moment. Tejeda would not have to wait long for redemption, lashing a full-count pitch to left center. Both runners scored after head starts and Tejeda's triple made it 4-3 for the visitors.
The Revs' bullpen took it from there. Ron Schreurs and Julio DePaula teamed up to work around a hit in the seventh. Ty'Relle Harris came on for a perfect eighth as the bridge to Mike DeMark, who locked down his ninth save of the year by striking out the side.
Mariel Checo (1-0) earned his first win of the season with 1 1/3 scoreless innings between the fifth and sixth. Ryan Dennick (0-1) took the loss by giving up the tying and go-ahead runs in the seventh.
Josh Wilson got a rally going in the third with a one-out triple to right center. Rockett followed with an opposite-field lash that ended up a double, scoring Wilson to make it 1-0.
Lancaster responded immediately with a couple runs in their half of the third. Jeff Kobernus and Logan Schafer led off with back-to-back singles, then after a fielder's choice, Caleb Gindl knocked in a run on a base hit of his own. Josh Whitaker followed with another single, bringing up Josh Bell, who slashed a hard ground ball to first that Telvin Nash gloved. A run scored on the ground out but Nash's quick moves limited the Barnstormers to a 2-1 lead after three.
Nash followed the glove show in the third with his bat in the fourth, mashing a game-tying solo shot to left center for his league-leading ninth home run of the season.
The Barnstormers got that run back in the bottom of the fourth on a Kevin Ahrens' RBI single.
Tejeda added a single and a walk to his two-run triple for his eighth multi-hit game of the month. Nash finished 3-for-4 with the home run and added a second-inning unassisted double play to his fine defensive night. Rockett had himself a three-hit night with a double and a pair of singles.
Four Barnstormers had two hits on a night when Lancaster beat out 13 hits, all singles, but left 10 men on base.
Revs starter Matt Neil went 3 2/3 innings and allowed three runs, while J.D. Martin pitched six innings of two-run, six-hit ball in a no-decision.
Notes: With his Atlantic League-leading ninth save, DeMark now has 13 on his Revs career, surpassing Josh Judy and Sean Stidfole for sole possession of eighth in Revs history. His next save will tie Stephen Penney for seventh on the club's all-time list. .. James Simmons will get the nod for York to begin a three-game series in New Britain against the Bees on Friday night.