West York High grad Brandon Parker quickly climbs ranks in bid to become NBA referee
Elijah Armold
505-5406/@EADispatch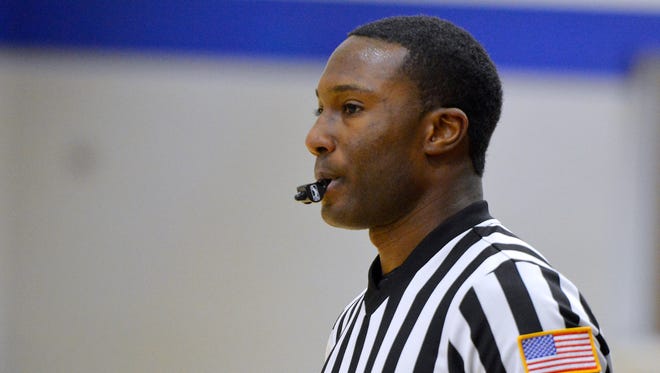 Brandon Parker played basketball at West York High School from 2007-2009.
The Bulldogs won back-to-back York-Adams League titles in 2007 and 2008.
Parker is now an official in the NBA's Gatorade League.
Whenever he's been on a basketball court, West York High School graduate Brandon Parker has been in control.
During his days as a Bulldog, that meant being a leader in the locker room and providing a calming influence on the floor during a period of West York dominance.
Presently, Parker is maintaining order as an official for the NBA's Gatorade League. The G League is the NBA's developmental league and has teams all across the country and Canada.
Rising through the ranks: Parker, a 2009 grad of West York, briefly left the hardwood behind after his days as a Bulldog to attend Virginia Commonwealth University in Richmond.
After graduating with a finance degree, and while searching for full-time employment, Parker began officiating youth games. His first taste of the whistle came while helping with some of the Bulldogs' youth camps.
 "When I was in high school, I was helping out at a West York youth camp, refereeing some games there," Parker said. "And I remember going home and thinking 'That was really fun, that was a good time.' So, after I graduated college, and I didn't have a job yet, my dad said, 'Why don't you look into refereeing?'"
From there, Parker gained his certification to become an official with the York-Adams League. He started in the youth levels and quickly rose to junior high and junior varsity action in his first year.
By many accounts, Parker was a "natural."
"It's funny, because when he first told me he was going to get into officiating, just at the high school level, my first reaction was 'Wow, what a great fit,'" former West York head coach Bill Ackerman said about his former player.
"He was a natural, knew the game and just had that demeanor and didn't get rattled. It wasn't long, maybe two, three years, before I said to him 'Brandon, you're really going to do something (with officiating).' And then when he told me he got an opportunity in the NBA, it was exciting, but honestly it did not surprise me at all."
The next step in his journey was to catch the attention of the NBA scouts, who scour the nation visiting various camps to look for officials they feel would make great fits for their league. Once on the league's radar, an official must work a number of camps for further evaluation.
To little surprise, the league caught on to Parker's abilities.
"I saw him work on the floor for his first time (with the Y-A League) and could tell he was going to be a special official," said Gordon Kauffman, the former president of the York chapter of PIAA officials. "He had the look, desire and personality. He was the total package, and it did not take long for people to realize it. I remember when I got the NBA recruiter for the East Coast to look at him at a camp at Messiah College. The recruiter thanked me after he looked at him."
Parker is in the midst of his second season with the G League. The next step will be catching the attention of NBA management and being selected to work NBA preseason games. A solid performance there can land him his chance to officiate the world's best.
Ackerman was quick to point out Parker's high character and leadership qualities when asked to reflect on Parker as a Bulldog. His influence played a large role in the Bulldogs collecting back-to-back York-Adams League titles in 2007 and 2008.
"I never had to worry about Brandon flying off the handle or losing his cool. In fact, he was the guy that when some of my other hot-headed kids would lose their cool, Brandon was the one who would calm them down," Ackerman said. "At the same time, Brandon was the kid who, when we were playing flat, he would go off in the locker room and be a leader in that way."
That demeanor now manifests itself when Parker might not make the best call.
 "Any time that I've made a bad call, I just try to reset my mind, and try to move on to the next play and try to be better at that next play," Parker said.
The lifestyle: As far as life in the G League is concerned, it's a hectic time, but one Parker relishes. He resides in Hallam Borough and works as an insurance underwriter in Lancaster. He credits his employer for being understanding about his situation.
"Travel is the most difficult part. I would say, right now, at least once a week I'm gone. Typically, two to three days," Parker said. "I'll fly into a city the day before. And then the day of we have a meeting, and we'll typically all get lunch together and then work that night. Then we'll do some study and review afterward and try to fly out either the first or second flight the next morning to get home."
Aside from enjoying having the "best seat in the house," as he describes it, Parker takes delight in meeting new people from all over North America and forging friendships with all the officials he's worked with, past and present.
Parker also takes any opportunity he can to hone his craft and stay sharp. In fact, after returning from a recent G League assignment, Parker officiated Sunday's Penn State York men's game.
"I believe we will be watching Brandon in a short amount of time on the NBA floor," Kauffman said. "And they will be getting a good one."
Reach Elijah Armold at earmold@yorkdispatch.com.