EDITORIAL: Companies deserve credit for taking risk and finally jumping into gun debate
York Dispatch
Corporate America is blazing a new path on limiting access to assault weapons.
Now, those are words you likely never expected to read.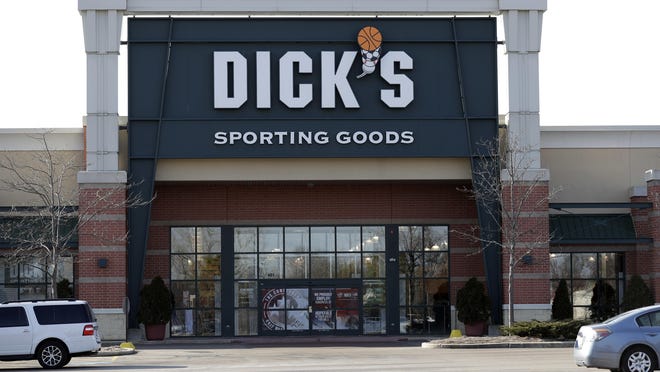 Corporations are typically in business for two reasons — to sell stuff and make profits.
They are not in the business of offending potential customers or creating controversy.
As a result, they tend to follow the safest route of least resistance.
That's what makes this week's news events so astounding.
A number of corporate giants are stepping into the gun debate with both feet and risking the ire of Second Amendment advocates and the almighty National Rifle Association.
Retail heavyweights Dick's Sporting Goods and Walmart have taken the initiative to restrict gun sales. That follows moves by several other major corporations, including MetLife, Hertz and Delta Air Lines, that have cut ties with the NRA following last month's school massacre in Florida.
Walmart, Dick's expand corporate rift with gun lobby
Taking on the NRA has traditionally been considered ill-considered at best, and calamitous at worst.
It's something that most U.S. corporations would never even consider — until now. And many politicians financially beholden to the NRA still won't.
The tragic shooting that left 17 schoolkids and adults dead in Parkland, Florida, has apparently changed all that — for the corporations, at least.
The bottom line: To those corporations that have opted to put their bottom lines on the line, we have just two things to say: Bravo, and it's about time.
It would've been nice if the companies had acted sooner, but better late than never. But perhaps this means that by taking the lead, they simultaneously set and example for —and bypass — Congress.
That's a point President Donald Trump made on Wednesday during a bipartisan roundtable on school security. He's not afraid of the special interest sway of the NRA, he said, although some in Congress are.
More:Trump says some lawmakers too fearful of NRA to act on guns
Among those at the meeting were Sens. Pat Toomey, R-Pa., and Joe Manchin, D-W.Va., who are pushing their bill to broaden background checks to include pre-purchase reviews for online and gun show sales. It failed twice in the Senate after the 2012 Sandy Hook Elementary School shooting in Connecticut.
Meanwhile, It takes more than a little corporate courage to leap into such an emotionally charged debate. There's no doubt that companies such as Pennsylvania-based Dick's are taking a rather large risk.
A risk from which many politicians have shied away.
Enduring backlash: All you have to do is check out the chatter on social media, and you'll find there are quite a number of folks out there who are vowing to never step foot in Dick's  again and are encouraging others to do the same.
In addition, some conservative politicians are searching for ways to punish the companies that they believe have come down on the wrong side of this debate.
After Atlanta-based Delta eliminated a discount program for NRA members, Georgia's lieutenant governor threatened to fight a tax break for the airline.
In addition, the NRA is unleashing its considerable power to fight back against the companies that  dare to confront the gun lobby.
Risk-reward move: So, there's little doubt that the moves by Dick's, Walmart, Delta and others come with a sizable amount of financial peril.
Still, there's also the opportunity to win new business from those who wish to limit access to assault weapons.
"This is the moment when business leaders across the country get to decide if they want to stand on the right side of history," said Shannon Watts, founder of Moms Demand Acton for Gun Sense in America. "Mothers make the majority of spending decisions for their families, and we want to shop with businesses that care about the safety of our families — making this a smart business move, too."
Watts is right. The actions by Dick's and other companies could ultimately prove to be financially sound decisions.
Women have considerable buying — and voting — power.
Decision from the heart: Dick's decision, however, was not made with an eye on the bottom line, at least according to the company's chairman and CEO, Ed Stack. Rather, it was a decision based on the human heart.
"When we saw what the kids were going through and the grief of the parents and the kids who were killed in Parkland, we felt we needed to do something," Stack said on ABC's "Good Morning America."
A letter from Dick's Sporting Goods CEO Ed Stack
So, Dick's acted. Hopefully this will be the start of a nationwide movement, but it's just a start. 
Actions better than hopes and prayers: It obviously doesn't mean that another Parkland will never occur. In fact, if American history tells us anything, it's that more children will almost certainly die senselessly from assault weapons in school massacres.
When such tragedies occur, hopes and prayers are nice, but actions are better. Some members of Corporate America are finally taking action.
They should be applauded for that.