Grove, Keefer foster doubts about election after voting firm abandons hearing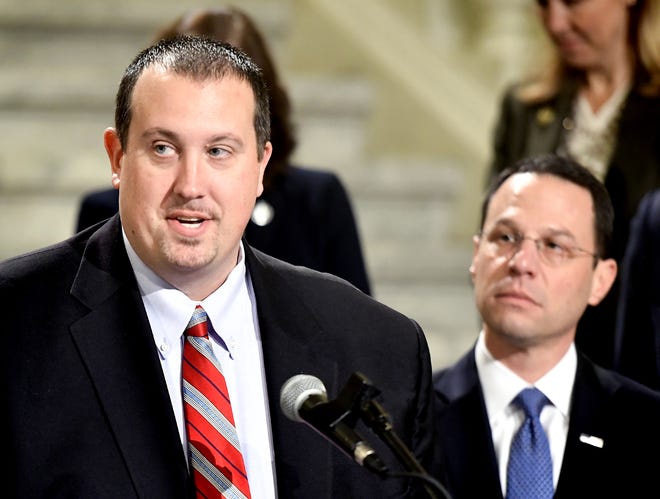 Two Republican state lawmakers representing York County continued to sow doubt on Friday about the integrity of the 2020 elections after Dominion Voting Systems "backed out" of a committee hearing.
State Reps. Seth Grove, of Dover Township, and Dawn Keefer, of Franklin Township, ramped up skepticism of the election results after the voting machine company the night before rescinded their intention to attend a State Government Committee hearing, scheduled for Friday, intended to assess the performance of voting machines, they said.
The mounting skepticism of the presidential election's integrity comes amid a wave of unfounded conspiracy theories alleging widespread voter fraud.
"If they have nothing to hide, why are they hiding from us?" Grove, interim chair of the State Government Committee, said.
Amid a string of legal defeats, President Donald Trump's attorneys have increasingly focused on Dominion's role in the election, alleging — without evidence — that the firm was somehow infiltrated by Venezuelan communists.
Nationally, state election officials from both parties have debunked the claim, and even Fox News has cast significant doubt on it. But it has picked up traction among media outlets on the GOP fringe, such as One America News Network and Newsmax, on which Grove appeared Friday morning. 
More:Trump's election lawsuits plagued by elementary errors
More:Trump, stewing over election loss, silent as virus surges
Dominion's machines were used in 14 counties in the general election, including York — where Trump won handily over Democrat Joe Biden.
Kay Stimson, Dominion's vice president of government affairs, said the company asked to postpone the hearing in light of remarks by the president's attorneys.
"As we await the opportunity to debunk the baseless conspiracy theories being offered about Dominion and its voting systems in a court of law based on yesterday's press conference claims that litigation is coming, we had to ask for a postponement of the discussion," Stimson said.
In the meantime, Stimson said, the company has provided all committee members a fact-checking document responding to allegations such as software glitches, fraud and partisan leanings.
Grove, however, stressed that Dominion could have addressed the wave of "accusations" about the integrity of the election, but he did not specify what those accusations were.
"It's not going to change the outcome, but we need to know what happened," Grove said. "There have been broad accusations. I didn't say they were true. I didn't validate any of those accusations. We wanted to give them the opportunity to address them, but they chose not to. Why?"
Keefer, however, offered a long list of questions the committee had for the company.
Those questions included whether the company played a role in the tabulation of votes, whether there was "direct county oversight," and whether dominion uses open-source software.
"It's imperative that we demonstrate that out electoral process was fair, free and equitable," Keefer said. "And unfortunately, without having these questions answered, we can't give voters the confidence we're looking for."
Trump has repeatedly cried foul about alleged voter fraud stemming from mail-in ballots even before president-elect Biden was declared victorious. Biden won Pennsylvania by about 80,000 votes, according to unofficial returns. 
However, even top U.S. cybersecurity officials have said the election was fair and equitable.
On Tuesday, the president fired Chris Krebs, director of the Cybersecurity and Infrastructure Security Agency, an entity that called the election the "most secure in American history."
"The recent statement by Chris Krebs on the security of the 2020 Election was highly inaccurate, in that there were massive improprieties and fraud," Trump tweeted.
The president's campaign has filed lawsuits in multiple battleground states, including  Pennsylvania, in response to election results, but many have been dropped or quickly tossed by judges.
On Friday, Keefer also cast doubt on CISA's assertion that the election was a historic feat for the Democratic process.
"What proof do they have, without having performed the audits of everything, to say it was the most free and fair and secure election every performed?" she said. "What evidence do they have? I haven't seen any."
Friday's news conference came a day after the state House passed a resolution directing the Legislative Budget and Finance Committee to conduct an audit of the 2020 election.
The resolution passed 112-90. It does not require Senate approval or Gov. Tom Wolf's signature.
Also Friday, Republican leaders from Michigan's Legislature met with Trump in an apparent effort by the president to convince them to override that state's voters and seat electors that would back Trump instead. 
— Logan Hullinger can be reached at lhullinger@yorkdispatch.com or via Twitter at @LoganHullYD.