Local GOP want details in Wolf's cost-cutting proposals
David Weissman
505-5431/@DispatchDavid
Gov. Tom Wolf will deliver his budget address Feb. 7 and has promised no sales/income tax increases.
Wolf proposed merging Human Services, Aging, Health and Drug and Alcohol into the Department of HHS.
Local GOP lawmakers on House Appropriations Committee encourage no tax increase, want details.
Gov. Tom Wolf is set to give his state budget address Tuesday, and local Republican lawmakers are cautiously optimistic, given his stated desire to avoid an increase in sales taxes or other taxes.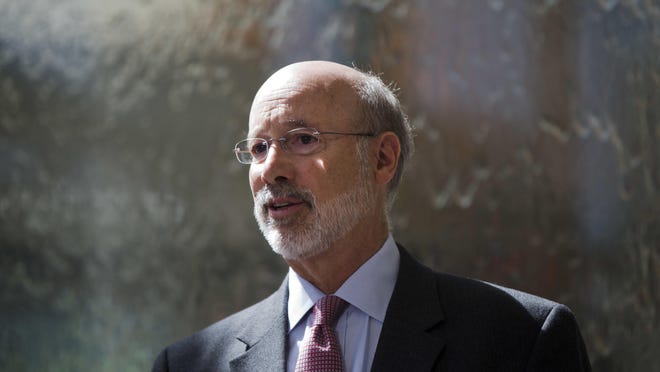 Spending in the fiscal year starting July 1 could exceed $33 billion, according to The Associated Press, and analysts are projecting a nearly $3 billion hole in the state's finances.
The Democratic governor from York County proposed tax increases during his first two years in office because, he has said, he viewed them as necessary to offset a huge, long-term deficit he inherited and help fix funding disparities between public schools.
As part of an effort to avoid those increases this year, Wolf's administration has been announcing several initiatives he says will cut costs and streamline government services.
Wolf to seek another $10M to help reverse drug overdoses
Most recently, Wolf announced a proposal to merge the state departments of Human Services, Health, Aging, and Drug and Alcohol Programs into one state Department of Health and Human Services.
State Rep. Stan Saylor, R-Windsor Township, said the consolidation, which would require the Legislature's approval, is probably a good move, but he needs more details before he can form a full opinion.
Saylor, who chairs the House Appropriations Committee, said he hasn't been told how many personnel would be cut, which would likely be a bulk of any cost savings achieved by the merger.
J.J. Abbott, a spokesman for Wolf's office, said the merger will be expected to cut costs, but the main reason for the move is to consolidate services in a way that will better deliver them to the public.
Abbott said he expects the merger will result in minimal personnel cuts, though he noted one of Wolf's other proposed cost-cutting measures is to eliminate thousands of unfilled jobs.
Wolf's other proposals include consolidating human resources and information technology functions, reducing the amount of state-leased buildings and closing the state prison in Pittsburgh.
Questions burn in Capitol over how Wolf will handle deficit
State Rep. Seth Grove, R-Dover Township, said he appreciates Wolf looking at reducing spending, but he echoed Saylor's sentiment that "the devil is in the details."
"In theory, I like it," Grove said of the decision to close the prison. "But if you're still keeping all those officers, or having to pay more overtime to officers at other prisons, you're not really cutting costs."
Grove, who also serves on the House Appropriations Committee, said he's looking for more details in Wolf's budget proposal in terms of line-item cost savings, analysis of policies that are driving costs and opportunities for innovation.
Saylor said House Republicans are working through a budget proposal of their own, but they have no intention of revealing details of that until Wolf's proposal is thoroughly considered.
"Maybe he'll surprise us all, and we'll be able to quickly vote through his proposal," Saylor said. "I think this year's election showed very clearly where our taxpayers are."
Republicans picked up three seats in each of the state legislative chambers, House and Senate, in November's election. The GOP now has a supermajority in the Senate.
Saylor did say he believes the current deficit will mean personnel have to be eliminated and non-essential items, including corporate tax credits, will have to be reduced to avoid tax increases.
— Reach David Weissman at dweissman@yorkdispatch.com or on Twitter at @DispatchDavid.