600 layoffs expected after Senate dismisses without funding jobless centers
David Weissman
505-5431/@DispatchDavid
State Dept. of Labor & Industry will lay off about 600 employees.
Gov. Wolf had urged the Senate to vote on a bill to fund L&I unemployment compensation call centers.
Sen. Wagner said he led the charge against holding a vote because L&I is not being held accountable.
The Department of Labor & Industry will lay off about 600 employees after the state Senate failed to vote for additional funding during its only scheduled post-election session day.
Gov. Tom Wolf had called on the Senate to approve a bill, which would have pumped $57.5 million into the state department's unemployment call centers next year, and he called the Republican-controlled body's inaction "incredibly disappointing and frustrating."
There are eight call centers in the state where employees help answer questions regarding unemployment compensation, according to The Associated Press. The department announced the planned layoffs in a press release.
The Senate had originally scheduled the bill for a vote on Wednesday's calendar, but a closed-door caucus meeting held before the session led to the decision to ultimately cancel the vote.
State Sen. Scott Wagner, R-Spring Garden Township, said he led the charge against the bill during that meeting.
The Legislature authorized a four-year funding bill in 2013 after federal officials accused Pennsylvania of failing to pay first-time unemployment benefits in a timely manner, according to The Associated Press.
Sharon Dietrich, a litigation director for Community Legal Services of Philadelphia, which provides free legal assistance to low-income residents, said she remembers fighting for that funding four years ago because people could not get through to the call centers.
Dietrich said as soon as the centers start laying off people in 2017, those same problems will come back.
Wagner suggested that the call centers' work could be moved online, but Dietrich said people filing for unemployment, often already financially strained, sometimes have immediate concerns that need to be addressed by a person.
Wagner said Thursday that the state's Department of Labor and Industry was supposed to use that four years of funding to update its system, and it didn't get the job done.
"I dug my foot in yesterday," he said. "They didn't get the job done and need to be held accountable. Let them close down."
Wagner added that the people in the department who dropped the ball should be fired.
Volkswagen to shed 30,000 jobs, cutting costs after scandal
The department's release stated that the funding was to improve the quality, efficiency and timeliness of unemployment compensation services and to work to replace the department's 40-year-old Legacy computer system.
It used those funds to reduce call wait times by more than an hour in the past two years and, in 2016, the computer system met goals set by the federal Department of Labor that it had failed previously, according to the release.
"The Senate put politics before people and now 600 employees will be without a job just before the holidays," Labor & Industry Secretary Kathy Manderino said in the release. "It's beyond disappointing; it's disgraceful."
A representative from the call center employees' labor union would not comment on the record Thursday when reached by phone.
The state House approved the funding bill, 175-13, in mid-October with all seven York County legislators voting in favor of it. The bill then passed through the Senate's Labor and Industry and Appropriations committees without opposition, though some committee members didn't vote on it. Wagner, who serves on both committees, was one of the members who didn't vote on the bill.
Wolf wrote in a statement that Republicans and Democrats just recently came together to pass unemployment insurance reform to provide benefits to 44,000 state residents, but the failure to provide additional funding for the call centers would leave operations "in upheaval."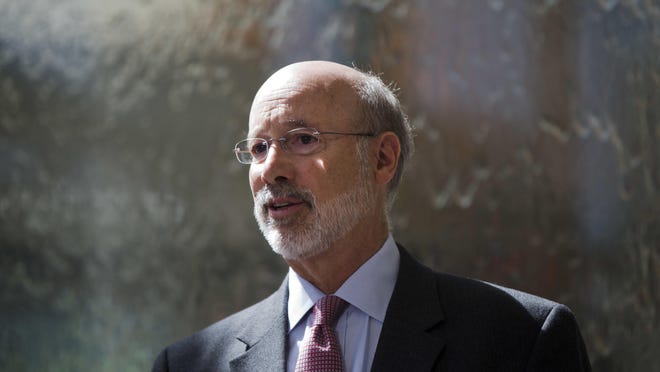 Wagner, who has said he plans to run for governor in 2018, said a lack of accountability has been a theme throughout Wolf's time in office.
"I consider serving on the Senate like serving as a board member for a Fortune 500 company," said Wagner, a first-term senator who owns Penn Waste. "If all this was happening, I would be screaming at the next board meeting, demanding (Wolf) be fired as CEO. But we can't do that."
That lack of accountability, he said, is the reason he plans to run for governor.
In response to Wagner's criticism, Mark Nicastre, a spokesman from Wolf's office, wrote: "Yesterday, the Republican Senate, including Sen. Wagner, made a conscious decision to make it harder for people who have lost their jobs to pay their bills and put food on the table. Unlike Sen. Wagner, it pains the governor to see any one person in Pennsylvania lose their job, let alone nearly 600."
Nicastre added that "every single unemployment insurance payment that is delayed and call that is not answered" will be due to the lack of action by Wagner and others who failed to pass the bill.
— Reach David Weissman at dweissman@yorkdispatch.com or on Twitter at @DispatchDavid.