State Legislature mulls pension reform before recess
David Weissman
505-5431/@DispatchDavid
Pension reform has became a state priority, with a deficit of more than $50 billion.
Pennsylvania House and Senate have three more days in session before general election.
Pennsylvania legislators have three more session days before the general election, and passing a pension reform bill appears to be a priority.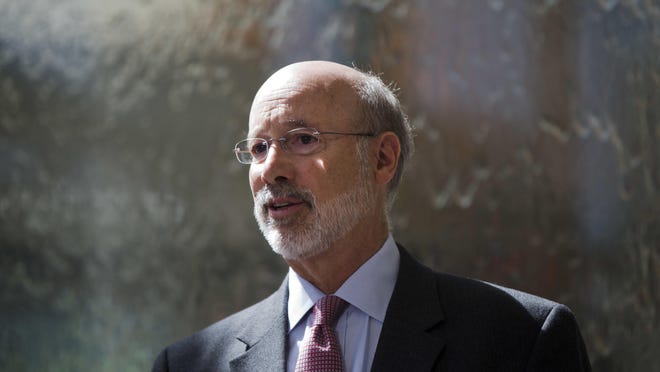 Pennsylvania currently has pension debt of more than $50 billion, and the state's taxpayer-paid share is an increasingly significant problem in crafting annual budgets.
The state House passed an amended Senate pension reform bill in June, but that bill, Senate Bill 1071, appears to have stalled after being sent back to the Senate.
State Rep. Stan Saylor, R-Windsor Township, said he's been told House GOP leadership and Gov. Tom Wolf have been working on a new formula that might be publicly released Monday.
Pa. pension bill heads back to Senate
Jeffrey Sheridan, a spokesman for Wolf's office, wrote in an email that Wolf has worked to try to reach a compromise  on comprehensive pension reform since he's taken office.
"While the governor has indicated he will sign reform if it gets to his desk, he first looks forward to reviewing the final product developed by the House and Senate Republicans before taking action on any potential legislation," Sheridan wrote.
Monday, Tuesday and Wednesday are the only scheduled session days left on the state Senate and House calendars before the Nov. 8 election.
Saylor said he wasn't involved in the discussion, but his understanding is that the reform won't affect pension plans of current state employees or teachers and will provide new state employees or teachers with at least two pension plan options.
Passing reform that doesn't affect current employees is important, Saylor said, because those plans are ensured by the state constitution, and any changes would lead to a legal battle.
"The key here is not to play games, not play the blame game," he said. "The key is getting it done."
Saylor said he'd like to start addressing the huge pension deficit — he suggested selling the state-owned liquor stores — but the most important thing right now is to "figure out how to keep the bleeding from happening."
State Sen. Scott Wagner, R-Spring Garden Township, said pension reform is a very complex issue.
Wagner said the Senate has held discussions recently on the topic, but he still has to thoroughly analyze all the information before he feels comfortable speaking about it.
— Reach David Weissman at dweissman@yorkdispatch.com or on Twitter at @DispatchDavid.