Why is the Pence rally at Penn Waste?
David Weissman
505-5431/@DispatchDavid
The Mike Pence rally is at 2:30 p.m. Thursday at Penn Waste, 3625 Mia Brae Drive in Manchester Township.
State Sen. Scott Wagner, owner of Penn Waste, said he was asked to host after attending Trump rallies.
Last major party candidate to stop in York was Democratic VP Joe Biden at West York High School in 2012.
Both major parties' presidential and vice presidential candidates have recently held rallies in southcentral Pennsylvania, but Gov. Mike Pence's Thursday stop at Penn Waste will be the first in York County this year.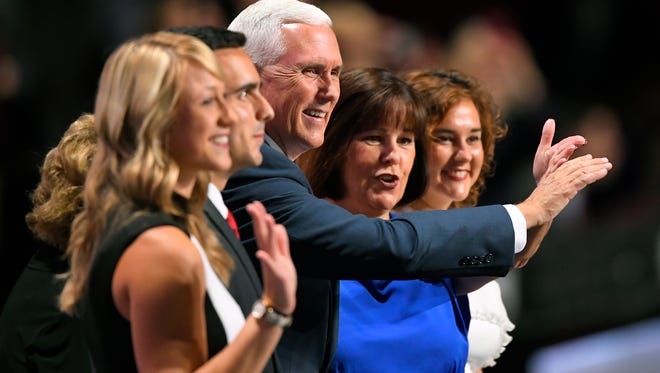 The Manchester Township waste facility has never hosted a political rally, but its owner, state Sen. Scott Wagner, R-Spring Garden Township, has been an avid supporter of Republican Donald Trump and Pence, his vice presidential pick, throughout the campaign.
Wagner said he attended Trump events in Philadelphia and Pittsburgh last week, and the campaign asked if he was interested in hosting the Indiana governor.
He estimates 1,000 to 1,500 supporters will attend the 2:30 p.m. rally, at 3625 Mia Brae Drive. Doors open at 11:30 a.m., and registration is available on Trump's campaign website.
The vice presidential nominee brings balance to the Republican ticket, Wagner said.
"Trump has a certain aggressive personality," he said. "Pence has been in place and done a good job in Indiana."
Wagner was previously linked to Trump at the Republican National Convention, when he was invited to sit in the family's private box during the convention after chatting with Donald Trump Jr.
BLOG: Wagner confident Trump will visit York
Wagner said that connection had no impact on the coming rally.
Wagner hosted a private meet-and-greet for Republican presidential hopeful Scott Walker, governor of Wisconsin, in July 2015, but the candidate dropped out of the race shortly after that.
After the convention, Wagner said he was sure Trump would visit York County leading up to the November election. He backed off that assertion leading up to Pence's visit but he said he wouldn't be surprised if the Republican presidential candidate did end up visiting.
PHOTOS: Donald Trump visits Mechanicsburg
In support of the campaign, Wagner said he has purchased 10,000 Trump yard signs, with another 5,000 coming in shortly, to give to local supporters.
Wagner said he expects Pence will speak  Thursday about the campaign's economic plan and national security.
Pence will be the first major party presidential or vice presidential candidate to campaign in the county since Democratic Vice President Joe Biden stopped at West York High School in September 2012.
— Reach David Weissman at dweissman@yorkdispatch.com or on Twitter at @DispatchDavid.