Dover Township considers upgrading quarters for live-in firefighters
"Volunteerism isn't what it used to be for any volunteer organization,"Dover Township Manager Laurel Oswalt said.
Volunteer fire departments have evolved throughout the past decade, Dover Township Volunteer Fire Dept. Lt. Cale Latchaw said.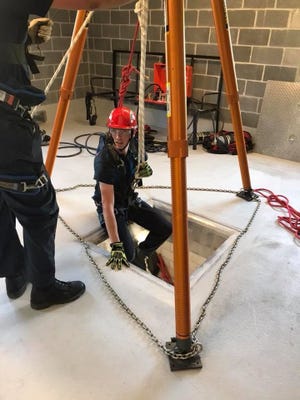 A strategy to offer volunteer firefighters a place to live, train and work is paying off, Dover Township officials said. And the hope is to keep it going. 
Supervisors are considering spending $20,000 on capital improvements next year to modernize the community facility where Dover Township Volunteer Fire Department offers firefighters a "live-in" option.
It's unlike other York County volunteer fire departments. 
More:Fallen firefighter Devoe's badge retired, name listed at Pa. National Fire Museum
But as the number of firefighters continues to dwindle nationwide and locally, township manager Laurel Oswalt said the township wants to make sure volunteer firefighters who stay with them have a rewarding experience.  
"Volunteerism isn't what it used to be for any volunteer organization," Oswalt said. 
Decade decline: Ten years ago, there were more volunteer live-ins at the station, Lt. Cale Latchaw said. Day-to-day volunteer attendance ebbs and flows, but overall, he said, there has been a slight decrease in volunteers.  
"We have less people here than we've had living in the past," Latchaw said. 
Latchaw said his company focuses its recruitment on college campuses and at high schools. The challenge, he explained, is selling the reward to them when the schedule is demanding.
According to the National Volunteer Fire Council, "Departments are finding it difficult to attract younger members due to a range of reasons, including increased demands on people's time, longer commuting distances to and from work, the prevalence of two-income households and increased training requirements."
Fire department evolution: Volunteer fire departments have evolved throughout the past decade, Latchaw continued. Their involvement, he said, has become "more progressive."
The council reports volunteer firefighters are "summoned" to a wide array of emergencies not only in their community but also across the country. Every day, the council states, volunteers respond to fires, emergency medical incidents, terrorist events, natural disasters, hazardous materials incidents, water rescue emergencies, high-angle and confined-space emergencies, and other general public service calls. 
"The scope of projects has expanded so much," Latchaw said. 
Board chairman Steve Stefanowicz said a decrease in volunteer firefighters is a "critical issue." He said he has heard of area volunteer departments that haven't been able to answer a call. 
Latchaw said it's been at least five years since his department has "failed to respond," and that in spite of being a small department, his team will find somebody to answer a call.
"Our response in every vehicle has always been less than a minute because of those live-ins," Stefanowicz said.
2018 budget: The public will have a chance to view the 2018 preliminary budget at the supervisors' regularly scheduled board meeting Monday, Oct. 23.
It currently has no proposed tax increase, and it's balanced, Oswalt said. 
Dover Township's millage rate is 1 mill, she explained, which is split into two funds: 83.5 percent goes into the general fund, and 16.5 percent goes into the fire department's fund, she said.