Brown's Orchards' Stan Brown dies
The York Dispatch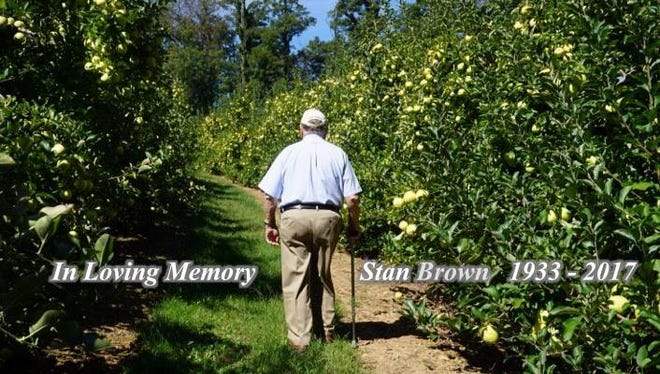 Brown's Orchards former owner Stan Brown died Saturday, Aug. 12, the orchard announced on its Facebook page Saturday.
Here's the post from the orchard:
With deep sadness we share with you the letter from Dave Brown to his employees this morning:
Dad / Mr. Brown is gone.
He fought a very courageous battle.
You are all amazing people and we have felt the love and support of all of you - and all our employees. It gave us energy to keep going.
Dad had amazing, amazing caregivers.
I will share more of our gratitude to all of you and some stories along this journey, but I wanted to share with you that our hospice group provided an angel who played a harp for 90 minutes for dad and family last night. Dad hummed in tune to some of the songs he knew. He was aware and we were able to share our love with him. He was at peace.
Mom came down this morning and sat with dad. She touched him and spoke to him and he took his last couple breaths.
We love you all. And dad is so proud of all of you.
Some of the comments left on the post:
Suzanne Becker Rest in Peace, Mr. Brown. You were such a shining example of gratitude, humility, goodness, and love for others. I am so blessed to have known you.
Karen Waldrup Taylor I grew up in Loganville, when Brown's was just a roadside stand. What a true Icon of the community. Rest in peace sir. Condolences to the family
David Wendy Hileman Going to miss that warm smile and the friendly manner Stan! Rest in peace, you will be missed!
Cathy Hake RIP. You left a wonderful legacy behind. Thank you.
Diane Markle Rest In Peace Mr Brown! You have touched so many lives! You helped make York County a better place for many to live. Your life was an example for all
Of us to follow! Deepest condolences sent to your family at this very difficult time. You were loved!
Cathy Siegel I'm so sorry to hear this. I will miss seeing him when I come to work at Logans View. Mr. Brown was SUCH a sweet, sweet man. He was always so generous towards my husband's military unit when making donations for his Christmas party. He will sorely be missed. God bless the Brown family.
Kristen Rudacille Stan, you were an encredible generous and selfless man. I enjoyed getting to know you. You always greeted me with a warm smile and such compassion. You left a lasting impression on my heart. May you rest in peace!
Jeri Jones I loved to cone down to the office and chat with Stan. I was so honored to present him an award from the County Parks for his work he did with us and I know he was thrilled. He worried more about others than he did himself. RIP Mr. Brown.