Meteorologists: Foot-plus of snow on way
Sean Philip Cotter, and David Weissman
York Dispatch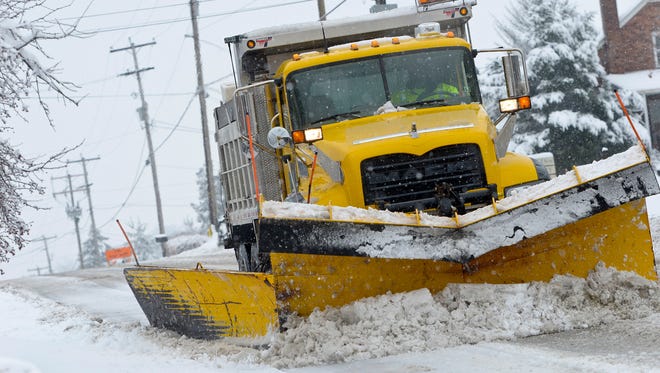 The Thomasville-area York Airport has tallied a meager 0.5 inches of snow so far this winter, well below the 9.3 inches it's usually seen by this point, according to AccuWeather.
But that's going to change soon — meteorologists predict a foot or more of snow will fall on York County between Friday and Saturday nights.
You can now track PennDOT plows
AccuWeather foresees 12 to 18 inches of the white stuff falling, said senior meteorologist Alan Reppert. He said 20 to 30 mph winds are going to be blowing the snow around the place, which will add to the poor conditions and lower visibility.
"It's gonna be quite a storm for you guys down there," said the meteorologist from up in the State College area, where there will be less snow.
He said the snow will roll in Friday night and will taper off late Saturday night or early Sunday morning, at times dropping 2 inches per hour at the height of the storm during the day Saturday.
Brad Sweitzer Sr., co-founder of Red Lion-based S&S Storm Chasing and Forecasting Team, said the wind will likely reach high enough levels to create blizzard conditions during the storm.
After slow start, area businesses prepare for snow
Sweitzer said, according to their models, the team expects snow to begin falling between 4 and 8 p.m. Friday and continue into Saturday. The models ticked further north Tuesday night, and Sweitzer said confidence is increasing that York will see 1 to 2 feet of snow.
A storm is officially a blizzard when it features three straight hours of heavy falling or blowing snow with 35 mph winds and less than a quarter-mile visibility.
The National Weather Service was only a little more conservative, predicting York County will get about a foot, with a little less likely toward the top of the county, according to meteorological technician Tony Mach.
The NWS already has a winter storm watch in effect for Friday evening through Sunday morning for a large swath of southern Pennsylvania stretching from Somerset to Lancaster. It warns of heavy snow and winds 10 to 20 mph, with gusts up to 30 mph.
It has a blizzard watch in effect for the counties immediately south of York in northern Maryland, portending a foot or more of snow and "dangerous conditions (that) will be a threat to life and property."
The worst of the storm looks at this point like it's going to pass to the south and east of York County, but if the storm changes track, York could be facing those kinds of conditions, the meteorologists said.
But even if things stay the way they look now, it's going to stand in stark contrast to the mild winter York county's had so far in the 2015-16 season.
"It is sort of a 'welcome to winter' snap back from what we had been seeing," Reppert said.
— Reach Sean Cotter at scotter@yorkdispatch.com and David Weissman at dweissman@yorkdispatch.com.