Meal debt grows in York County schools following lunch shaming regulations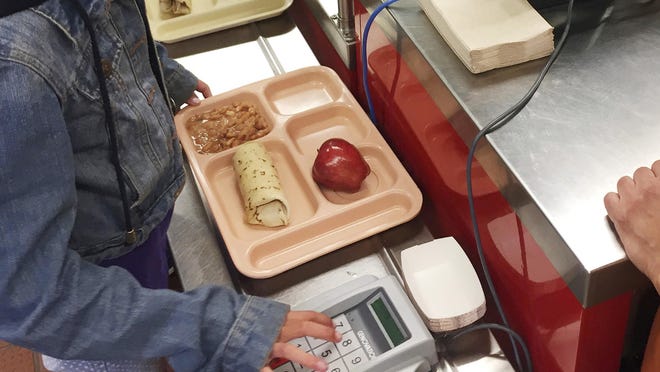 York County school districts have experienced an increase in school lunch debt over the past two years since the state updated its regulations on "lunch shaming."
Under revisions to the public school code passed in 2017 and 2018, schools can no longer refuse meals to students if they can't pay, publicly identify or stigmatize them or force them to do chores or other work in lieu of payment.
Officials at Central York recently reported debt in the $5,000-$10,000 range. 
"That concerns me," said board member Gregory Lewis. "If we think people are not being helped, we could probably take a little heat for that."
West York Area's numbers increased about 10 times or more since the law changed, officials in that district said. And South Eastern's increased more than 18% in the 2017-18 school year before jumping nearly 70% last year to more than $5,000.
Though Scott Rutkowski, West York's director of student nutrition, did not have a specific estimate for the district, he said the amount was relatively small compared to other York County districts.
More:Central York reverses decision to cut summer lunch program
More:'Lunch shaming' faces scrutiny across the country
West Shore's meal account debt as of Aug. 21 was about $17,000, according to a statement. The district is working with a collection agency to recover payments.
South Eastern, West York, South Western and Central have not turned to collection agencies yet — though South Eastern's board authorized using one if debt became too high, said business manager Mary Childress.
Elsewhere in the state, Wyoming Valley West School District, in Luzerne County, made national news when it threatened parents — four of whom owed at least $450 each — with sending their children to foster care after overdue bills reached $22,000.
In a July letter, officials warned them they could face dependency hearings for neglecting their child's right to food — which could lead to the child being taken and put in foster care.
More:Parents told they could lose kids over unpaid school lunches
More:School board apologizes for lunch debt warning letter
But the district never refused food to students for unpaid bills, so the claim was misleading, and the district has since apologized, according to The Associated Press.
Per the school code, districts cannot withhold food or offer alternative meals to students, and they must reach out to parents twice once students owe money for five meals or more. 
A letter sent Friday by the state Department of Education to school officials throughout the state added that, effective Aug. 27, students could be given alternative meals for owing more than $50 in a year, but it clarified that the policy does not apply to schools that use the national school lunch or breakfast programs.
Additionally, South Eastern has debt deterrents such as preventing students from walking at graduation, attending the homecoming dance or getting a parking pass.
One of the key ways to prevent debt from piling up is to ensure families in need have access to free and reduced lunch options, school officials said.
More:Summer lunch program tries to reach more kids in York County
"I know some families do struggle to meet those bills, and I know any outside help would be appreciated," said South Western Superintendent Jay Burkhart. "As we know, unfortunately, financial situations can change overnight." 
Burkhart and West Shore spokeswoman Rhonda Fourhman added their districts have received donations to help families pay.
More:School district aims to recoup school lunch debts
More:No free lunch: Donors erase students' debts
South Eastern wipes out debt incurred by students before they were on free and reduced meal plans at the end of each year, sends automated phone calls to students and has online alert options parents can set up, Childress said.
Rutkowski said West York has debit or credit cards on file so parents can set an amount of their choosing to automatically replenish their balance once it drops below $5.
"Some people are struggling — and not because of their income so much, but overextending of bills," he said.
Since the debt is absorbed by districts, the more debt incurred, the more it affects general fund budgets, school officials said.
"It would be a cause for greater concern if it keeps growing exponentially as it has been," Childress said.