Police: Hanover-area animal cruelty suspect tried to run over cop, York SPCA agent

Liz Evans Scolforo
York Dispatch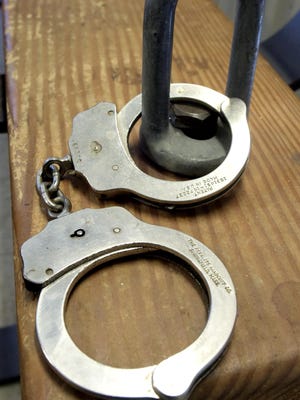 A West Manheim Township woman tried to run over a township police officer and an SPCA employee who were removing more than a dozen pets from "abhorrent" conditions in her home, police allege.
Michelle Baldwin, 56, of the 100 block of Valley View Road in West Manheim Township, has not yet been arrested and is facing six counts of aggravated assault and one count of fleeing and eluding police — all felonies — plus two misdemeanor counts of simple assault, according to court records.
In February 2017, Baldwin was found guilty of seven summary counts of animal cruelty and was ordered to pay fines and court costs, court records state.
Shortly after 7 p.m. Thursday, township police Sgt. Toby Wildasin was at Baldwin's home with Humane Society Police Officer Ame Kessler and York County SPCA Field Services agent Otto Cruz.
They were serving a warrant there because Baldwin was suspected of violating an order prohibiting her from keeping animals, and also because Baldwin is suspected of committing more animal cruelty, according to charging documents filed by West Manheim Township Police.
"Police were present at the scene primarily because of the Defendant's prior aggression towards officers along with threatening text messages and statements made against law enforcement during the active investigation," documents state.
Baldwin told The York Dispatch in an email that she didn't try to run over police and didn't seen anyone in front of her. She also said she's spent her life helping dogs.
14 dogs, 3 carcasses: Fourteen dogs and several other animals were living in abhorrent conditions in Baldwin's home and were removed, according to charging documents, and the carcasses of three dead animals were also found there.
Baldwin wasn't home at the time, but she returned about 10 p.m. as Wildasin, Cruz and Kessler were still trying to gather the animals, police said.
She pulled her black Ford E-350 van into a neighbor's driveway, stopped briefly, then turned around slowly and approached her own driveway, according to police.
At that point Baldwin "gunned" the van and drove directly at Wildasin and Cruz, "placing them in fear for their lives," charging documents allege.
Both men had to jump out of the way to avoid being struck, police said.
According to documents, Baldwin appeared to be screaming inside her van and Wildasin heard her say, "That's just what I wanted!"
'Glared': Baldwin "glared" at Wildasin, then jerked the steering wheel and hit the gas and again drove directly at the sergeant, trying again to run him over, documents allege.
Wildasin drew his handgun, pointed it at Baldwin and demanded she stop the van and get out, police said.
But Baldwin backed out of her driveway and took off, documents allege.
Officers gave chase for about four miles until she crossed into Maryland, at which point Maryland police pursued her as well, but she eluded them, according to charging documents.
— Reach senior crime reporter Liz Evans Scolforo at levans@yorkdispatch.com or on Twitter at @LizScolforoYD.
>>Like what you're reading? Not a subscriber? Click here for full access to The York Dispatch's hard-hitting news, local sports and entertainment.