Police: Lower Windsor man doused self in gasoline, threatened to kill family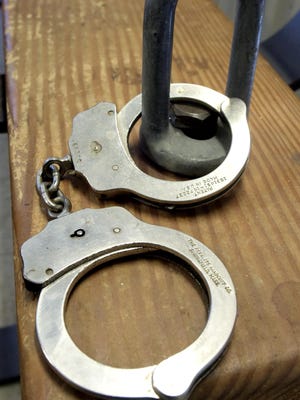 A Lower Windsor Township man doused himself with gasoline and threatened to kill himself and his family, according to police.
Lower Windsor Township Police said Timothy Michael Gile also pointed a shotgun at his girlfriend and child and threatened them on Thursday, Nov. 29.
Gile, 26, of the 340 block of Newcomber Road, faces charges of aggravated assault, simple assault, making terroristic threats and recklessly endangering another person.
Police said Gile was taken to York Hospital for a mental health evaluation following his arrest.
He was arraigned Saturday, Dec. 1, and was committed to York County Prison with bail set at $100,000, according to online court records.
More:Fire chief found Lower Windsor blaze while searching for gas leak
More:Coroner ID's woman killed in Lower Windsor Twp. crash
Incident: Police were called to Gile's home about 9:30 a.m. Thursday after receiving a report from Gile's father saying that his son had picked up a gun and threatened to kill himself and his family, charging documents state.
According to police, Gile was arguing with his girlfriend over her feeding their baby. She went into the detached garage to get a car seat, and Gile followed her, officials said.
Police said Gile then nailed the door shut and poured gasoline on himself.
He tried to set himself on fire, but wasn't successful, and he then grabbed a shotgun and pointed it at his girlfriend and child, charging documents state.
As this happened, Gile's father showed up and heard an altercation inside the garage, police said. When he opened the garage door, Gile's girlfriend ran out with her child, according to authorities.
His father told Gile to never threaten her or their child, and Gile then placed the shotgun under his chin and threatened to shoot himself, charging documents state. His father then ran into the house and called 911, officials said.
He managed to get Gile's girlfriend and child out of the house, documents state. When he returned, Gile was gone, according to police.
Police began searching for Gile and found that his phone had pinged at the parking lot of the Springettsbury Township Walmart, charging documents state.
Gile texted his father saying that his mother picked him up on Craley Road, and that he was with her, officials said. Police said that Gile's phone had pinged in that area before it pinged in the Walmart parking lot.
Springettsbury Township officers took Gile into custody at the Walmart without incident, according to police. 
While authorities were taking Gile to the hospital, police said Gile admitted to making threats and to his girlfriend while holding the shotgun.
— Reach Christopher Dornblaser at cdornblaser@yorkdispatch.com or on Twitter at @YDDornblaser.