York City police investigate shooting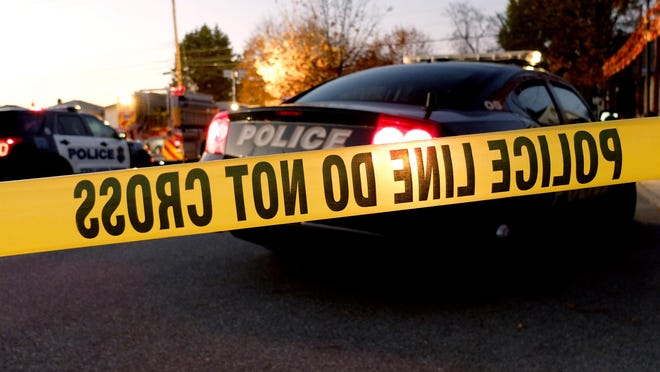 Just hours after two people were fatally shot in York City, another man was shot in the hand, according to police.
Lt. William Wentz, who supervises the York City detective bureau, said Thursday, Oct. 4, that Justin Lee Fetrow Jr., 18, of North York, was shot while standing on a porch in the 700 block of East Princess Street around 11:40 p.m. Sept. 26.
"He sustained a non-life threatening injury to one of his hands," Wentz said.
Fetrow was taken to York Hospital in a private vehicle, according to the lieutenant.
On Thursday, Wentz said investigators were trying to contact Fetrow to get more information on the shooting. No arrests have been made.
The lieutenant said Fetrow reported shots being fired from a vehicle, which he only described as a black vehicle. 
More:Police: York City homicide suspect fought with victim
More:Coroner ID's victims killed in York City shooting
More:Feds capture York City teen accused in two shootings
Double homicide: Earlier on Sept. 26, Dezmen "Dez" Jones, 15, and Jameel Robert Murray, 28, were fatally shot in the 600 block of West Princess Street, police have said.
York City Police said 16-year-old Luis Joshua Vicente-Ramirez shot the two just before 8 p.m.
Murray was pronounced dead at the scene, and Jones was taken to York Hospital, where he was pronounced dead about an hour later.
Officials have said about 20 shots were fired when Vicente-Ramirez and Murray got into a fight during what investigators believe was a drug deal gone bad.
Wentz said Thursday that the investigation continues and that investigators received reports that Dezmen was an innocent victim in the shooting.
That shooting happened less than four hours before Fetrow was shot.
"We have no information that they're related at all," Wentz said. 
As of Sunday, Oct. 7, Vicente-Ramirez had not been taken into custody. 
Anyone with information about the shootings or Vicente-Ramirez's whereabouts is asked to text "Yorktips" and their information to 847-411 or call the York City Police Department's anonymous crime tip line at 717-849-2204.
Tipsters can also call York City Police at 717-849-1234, or call York County Crime Stoppers at 717-755-TIPS.
— Reach Christopher Dornblaser at cdornblaser@yorkdispatch.com or on Twitter at @YDDornblaser.