Police: Man sexually assaulted West York teen
A Dauphin County man is accused of sexually assaulting a West York teenager he met online, according to officials.
West York Police say Muhammad Shahab, 19, had sex with the 13-year-old girl in her home in early May.
Additionally, a family friend found out about the situation and encouraged the girl to lie to police and coached her on how to destroy the case, court documents state.
West York Police Chief Matt Millsaps said the department is working with the York County District Attorney's Office to investigate additional charges in the case.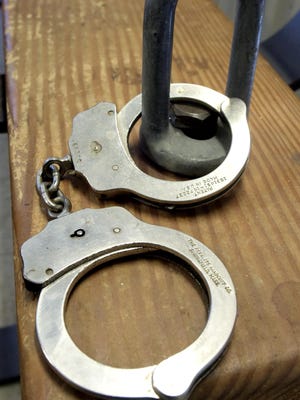 More:Police: GPS in stolen loot helps catch York City robber
More:Woman pleads no contest in West York school bus attack
Shahab, of Steelton, is charged with involuntary deviate sexual intercourse with someone younger than 16, unlawful contact with a minor, statutory sexual assault, corruption of minors, soliciting child porn and indecent assault.
Alleged incident: Charging documents indicate that Shahab and the girl started talking after they met online, and they talked on Facebook about meeting up.
The two had met online on "MeetMe," and her account said she was 13, court documents allege. Police say Shahab's account name was "Alex" and his age was listed as 19.
The two got together in person at a nearby gas station on May 6, while the girl's mother attended church, officials said. 
They went back to her home and started kissing, and the two then went into a bedroom and had sex, charging documents state. Afterward he told her she was being "too clingy," and he then left, police said.
Before he left he asked for her email address and said he wanted to keep talking with her, documents state. The victim told authorities that Shahab asked her to delete all her messages, according to police.
Knew about alleged incident: After Shahab left, a family friend came to the house and talked to her, police said. He told the girl that she was ready for sex, and he gave her a cellphone to use, according to charging documents.
That man also asked the girl all about what she had done with Shahab, police said. When police got involved, the man told the girl to lie, according to officials.
Court documents state that the man also talked to the victim about "not letting this out" and to not get anyone in trouble. 
According to court documents, the victim did not tell the truth during her first interview with authorities. It wasn't until mid-June, during another interview, that she told them about the alleged incident, officials said.
Charges were filed Thursday, June 28, and Shahab was arraigned on the charges that day. 
He remains free after posting $100,000 bail. A phone number could not be found for him, and he does not have an attorney listed.
His preliminary hearing is scheduled for July 12 at District Judge Jennifer J.P. Clancy's office.
— Reach Christopher Dornblaser at cdornblaser@yorkdispatch.com or on Twitter at @YDDornblaser.