Police: Anthony Orr Jr.'s shooter arrested

Liz Evans Scolforo
York Dispatch
York City Police have arrested a man they say shot Anthony Orr Jr. in the head over the weekend.
Gen-uine Alston, 20, of the 600 block of Company Street in York City, was captured about 2:30 p.m. Tuesday, June 26, in the 1200 block of West King Street, according to York City Police.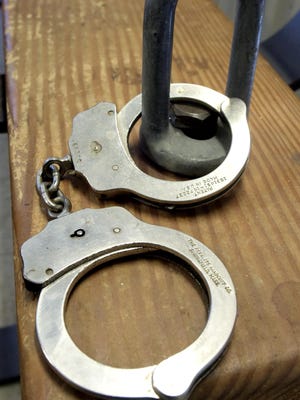 Orr, 36, of York City, was shot about 4:30 p.m. Sunday, June 24, in the 100 block of Lafayette Street, police said.
Alston was arraigned Tuesday afternoon by District Judge Ron Haskell II on charges of attempted homicide and aggravated assault, according to court records.
Haskell denied Alston bail, according to police.
Police have said Orr was targeted but haven't said why. Charging documents filed against Alston on Tuesday also don't provide a motive.
Orr remains in York Hospital in critical condition, police said.
Hit with buckshot: Charging documents filed by York City Police Detective Andy Baez state that when officers were called to the scene, they found Orr in the driver's seat of an SUV.
He had been shot in the head with buckshot from a shotgun — and officers started lifesaving efforts until an ambulance crew arrived and rushed Orr to York Hospital, documents state.
Police learned a man was seen running from the area, holding a bookbag in one hand and a shotgun in the other, according to documents, and he was last seen running through an alleyway and out of sight.
One of Orr's family members told investigators he had been told that the person who possibly shot his son goes by "G" and has a Facebook profile name of "SOS Spalding," according to charging documents.
Police said that information helped them identify Alston as a suspect.
His photo was then shown to a witness as part of an eight-person photo array, and the witness picked Alston out of the lineup, documents state.
The witness told detectives he is 100 percent sure Alston was the man who shot Orr, according to police.
Witnesses told detectives that Alston was "walking fast" toward Orr's car just prior to the shooting.
More:York City shooting victim had been out of prison three weeks
More:Police: Man shot in York City over drug-sale argument
More:York City's shootings drop by half, GVI credited for reduction
'Gentle giant': Local attorney Sandra Thompson said she's known "Tony" Orr for at least 26 years. They attend church together at Mount Moriah Missionary Baptist Church on Prospect Street, she said.
"He is a family man," Thompson said. "He takes care of his children, his mother, his grandmother. He is a help to his church, his family and his community, and he always has been."
Orr acts as a mentor in the York community, the attorney said, helping youths as well as men recently released from prison.
He's always smiling and always positive, according to Thompson.
"He's always been, to me, like a big gentle giant," she said.
According to Thompson, Orr was reaching out to "a couple people who were involved in wrong" and trying to convince them to change their ways.
"They retaliated against him," she said. "He is involved in positivity and breaking up negativity, even to his own detriment. He's just a stand-up guy."
York City Police are still asking that anyone with information about Orr's shooting call them at 717-846-1234, or anonymously text "Yorktips" and your information to 847-411. People can also download the York City PD app.
York City Police Chief Troy Bankert has said the texting service is entirely anonymous.
It allows tipsters and detectives to text back and forth, he said, and while the tipster knows who he or she is communicating with, police don't know.
Bankert also has said police need the public's help to solve serious crimes.
— Reach Liz Evans Scolforo at levans@yorkdispatch.com or on Twitter at @LizScolforoYD.