Dover Twp. man accused of choking Chihuahua puppy
A Dover Township man is accused of choking a 12-week-old Chihuahua mix puppy by yanking on its collar, causing damage to its airway and putting it "at risk of death," according to police.
State police say Joseph Anthony Sullivan, 33, pulled the puppy's collar, causing it to hit its head on a bed post.
The 5-pound dog was surrendered by its owner and given to another family, police said.
Sullivan, of the 2700 block of Prospect Avenue, is charged with aggravated cruelty to an animal, a felony, and cruelty to animals, a misdemeanor. 
More:Most charges dropped in animal-control officer threat case
More:Alleged cat killer headed for trial in York County Court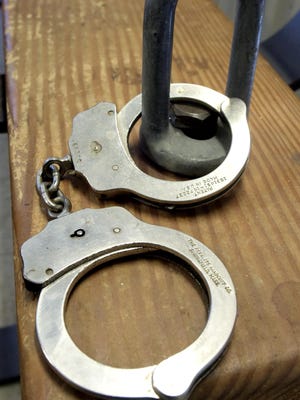 Puppy: The owner of the dog told police she was at the gym Thursday, April 12, when Sullivan tried calling and texting her 12 times, police said. He told her that something was wrong, and that the dog was not acting normal, documents state.
The woman returned home and found the dog was unusually quiet and nervous, officials said.
The owner made Sullivan take them to the veterinarian about 12:30 p.m. Thursday, court documents state.
The veterinarian found the dog with pink coloring around its neck, police said. It was also trembling and anxious, and the veterinarian noted it had hemorrhaging in the eyes, officials said.
"(The veterinarian) advised that the dog obviously suffered a trauma and airway compromise," Trooper Jonathan Lear wrote in charging documents. 
The dog had bruising under both eyes as well, officials said.
Officers were sent to the veterinarian's office after Sullivan caused a disturbance, and they noted the dog owner was "terrified" of Sullivan, the court records state.
Sullivan: When speaking to Sullivan, police say he initially blamed the injury on the dog playing with a toy. However, he later admitted to yanking the dog's collar, causing the dog to hit its head on a bed post, according to court documents.
Police say he yanked the collar after the dog was chewing on a cord.
Sullivan was taken to the county's central booking unit, where he was arraigned on the charges. 
He was freed after posting $15,000 bail, according to the York County Sheriff's Office. He could not be reached for comment, and he does not have an attorney listed.
His preliminary hearing is scheduled for Thursday, April 26, at District Judge John Fishel's office.
— Reach Christopher Dornblaser at cdornblaser@yorkdispatch.com or on Twitter at @YDDornblaser.