Three accused in robbery outside Laser Alleys in Springettsbury Twp.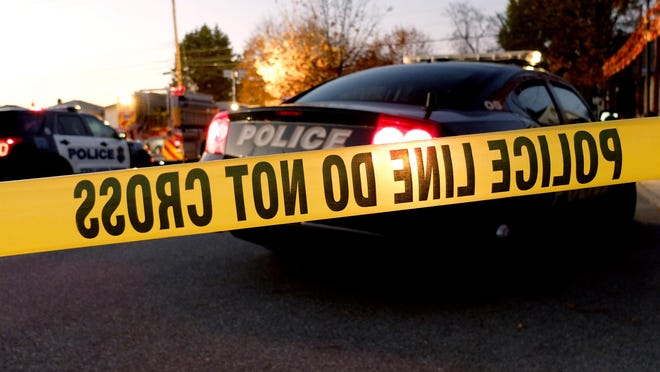 Three men face charges after police say they robbed a man of more than $1,000 outside a bowling alley in Springettsbury Township last month.
Township Police say Levi Cole Dunlap, Justin Wayne Doxzen and Vincent Christi Heffner robbed the man during a scuffle outside Laser Alleys on Feb. 17.
Dunlap, 22, of the 500 block of Salem Church Road in Lower Windsor Township; Doxzen, 21, of the 100 block of Ruffian Lane in Lower Windsor Township; and Heffner, 25, of the 600 block of South Pine Street in Red Lion, face charges of robbery, theft, simple assault, unsworn falsification to authorities, disorderly conduct and harassment.
Reached Tuesday, March 6, Dunlap said he was a witness to the incident and didn't know he was getting charged. He said he works and doesn't need the money.
"I did not take his wallet," he said.
Dunlap said the victim tried to get drugs from their group, and when he told the victim to not ask about that, the victim insulted their friend who recently died from leukemia. He claimed the victim told him he wished he had gotten cancer, too, prompting an incident. 
More:Three accused Penn Twp. armed robbers avoid adult court
More:Police: Dover Twp. hardware store employee stops robbery
More:Man assaulted, tried to kiss Giant cashier, Springettsbury police say
Police allegations: Springettsbury Township Police say the three were fighting with another man in the parking lot of the East Market Street bowling alley about 12:30 a.m. that day.
According to court documents, the three approached the  man as he got into the driver's seat of his vehicle, and Dunlap opened the driver's side door and began striking him. Doxzen then arrived and began striking the man as well, and the two pulled him from the car, according to police.
Dunlap and the victim were seen holding on to an object, and Doxzen  placed the victim in a headlock, charging documents allege. Dunlap then took something from the ground, while Heffner approached and punched the victim, causing the victim and Doxzen to fall to the ground, according to police.
Doxzen then held the man to the ground while Heffner punched him repeatedly, charging documents allege. Another person came, pushed Heffner away, and they all separated, according to police.
The victim told police they were attempting to remove his wallet when they were fighting, and that Dunlap and Doxzen removed his wallet from him, court documents state. A passenger in the car told police that Dunlap struck her in the upper body and shoulder when she tried to push him out of the vehicle, officials said.
The victim, according to police, had a bloody lip and several red marks on his forehead and cheeks. Police say the victim had $1,580 in his wallet, which was missing.
The three men provided written statements to police, which, according to officials, did not match up with what was seen in surveillance footage.
Dunlap: On March 6, Dunlap said he was with a group of friends that night, and the victim had asked them where to get cocaine. 
Someone in their group is a recovering addict, Dunlap said, which prompted him to tell the victim to not ask that.
"I told him, 'Hey man, look — I'd appreciate it if you didn't say that,'" Dunlap recalled.
After that, the victim began saying things about their friend, who had died from leukemia, according to Dunlap. He characterized the victim's statements as "totally ignorant stuff."
At the end of the night, the victim made more comments to Dunlap and his group, according to Dunlap.
"He said he hopes I get cancer," Dunlap said.
Dunlap said he got  hold of the victim while he was in the car but backed off when he heard  the victim say he had a gun.
"I honestly don't think I hit him," he said. 
Dunlap said he tried splitting up the fight afterward. He said he never took the victim's wallet and that surveillance footage will show that he didn't.
Doxzen and Heffner did not return messages seeking comment Tuesday afternoon. They do not have attorneys listed. Charging documents do not say what Doxzen and Heffner said to police.
A Springettsbury Township Police official could not be reached for comment.
Heffner and Doxzen have arraignments scheduled for Friday, March 16 at District Judge Barry Bloss Jr.'s office. Dunlap's arraignment is scheduled for Thursday, March 15.
Their preliminary hearing is scheduled for March 29.
 — Reach Christopher Dornblaser at cdornblaser@yorkdispatch.com or on Twitter at @YDDornblaser.