Police: Threats land Dallastown student in prison

Liz Evans Scolforo
York Dispatch
An 18-year-old Dallastown Area High School student is now in York County Prison for allegedly threatening to shoot teachers and fellow students.
Brandon Jamal Thompson, of Chambers Ridge Drive in York Township, is charged with one count of making terroristic threats. He was arraigned Thursday, March 1, by District Judge Scott Laird, who set bail at $225,000, according to court records.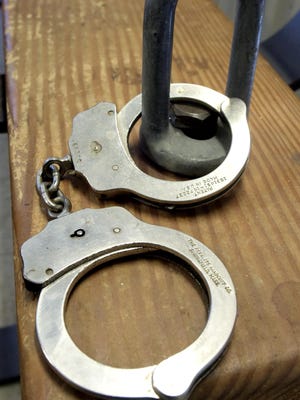 The Dallastown Area School District has suspended Thompson, according to an online message to students' families from Superintendent Ronald Dyer and high school Principal Zachary Fletcher.
A recommendation has been made to expel him from school, according to that online statement.
According to charging documents, Thompson was overheard about 9:15 a.m. Thursday yelling at a student, "Don't come to school tomorrow," and a witness alerted school staff.
School administrators immediately detained Thompson and alerted York Area Regional Police, according to the school's online statement.
Police spoke with students with whom Thompson rode to school Thursday morning and were told that in the vehicle Thompson said that one day, someone was going to "push his buttons to the max," charging documents allege.
More:Police: 12-year-old to be charged in West York Area schools threat
'Teachers are first': He then allegedly said, "I'm going to come to school tomorrow with a gun and teachers are the first victims," documents state.
Once at the school and walking through the lot to the building, Thompson pointed out another student and said, "that's going to be my first victim," documents allege.
After walking inside the building, Thompson raised his hands and made a shooting gesture at a group of students about 7:30 a.m., according to charging documents.
Police interviewed Thompson shortly before noon Thursday. He told them he had heard about threats being made in other school districts and "thought it would be a joke to say it," according to documents.
Asked about the student he had pointed out and allegedly identified as his first victim, Thompson told officers that if he really wanted to shoot the boy, he would have done it already, documents state.
One of his parents told officers that Thompson has seem depressed for the past several weeks, according to police.
More:Police: Central middle-schooler to be charged in threats
Led out in handcuffs: About 12:30 p.m., a handcuffed Thompson was led from the school to a police cruiser, documents state.
There was no interruption to the school day, according to the school district's online statement.
The superintendent and principal urged parents to keep discussing with their children the importance of immediately reporting any threats they might hear.
"We commend the students who reported this morning's threat to school administration," they wrote. "Student safety remains our greatest priority."
Court documents don't list an attorney for Thompson.
Since the Parkland, Florida, school massacre on Feb. 14, a number of students in York County school districts have been accused of making threats, including in Central York, West York Area, Dover Area, Eastern York, York City, Red Lion Area, Hanover, Southern and South Western school districts. 
Threats closed Central York School District for three days.
— Reach Liz Evans Scolforo at levans@yorkdispatch.com or on Twitter at @LizScolforoYD.