Trial ahead for trio accused of raping girl they lured from York Fair

Liz Evans Scolforo
York Dispatch
The teenage girl who police say was lured away from the York Fair and raped by three 16-year-old boys was the only person to testify at the trio's preliminary hearing, but it was enough.
At the close of the hearing on Thursday, Feb. 8, District Judge Jennifer Clancy determined enough evidence exists against the defendants for all three to stand trial in York County Court on charges of rape, involuntary deviate sexual intercourse, false imprisonment and making terroristic threats.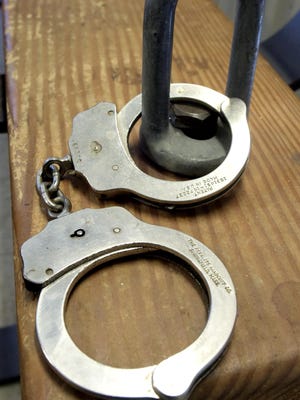 Kelvin J. Mercedes, Daishon M. Richardson and Andrew R. Miller, all of Manchester Township, remain free on $25,000 bail each. Mercedes and Miller are still 16; Richardson turned 17 in December.
All three are scheduled for formal arraignment in York County Court on March 16, according to court records.
The alleged victim spoke softly on the witness stand, answering questions posed by senior deputy prosecutor Kara Bowser about what happened the night of Saturday, Sept. 16.
She said she was at the York Fair with two friends, then left by herself to walk to Madison Avenue.
Dead body? But moments after walking out what she called "the back gate" of the fair, she ran into Richardson and Miller, whom she knew, and a third teen with them she didn't know, who she said was Mercedes.
They asked her if she wanted to see a dead body, and all four walked away together, stopping on the property of a business near West York's baseball field, she said. The girl estimated that was about 10 p.m.
That's where Mercedes lifted his shirt to show he had a gun, and Richardson told her to perform oral sex on him and pushed her head down, she testified.
"They all started taking their pants down," she said. "I just did what they told me to do ... because Kelvin had a gun."
The girl said that after she performed oral sex on all three, she saw a police car drive past. She said she didn't scream for help "because I was scared of the gun Kelvin had."
She testified that she believed the trio saw the cruiser as well, because that's when they started to move a block or two away.
Dragged away: "I was forced to get up. They were grabbing my arms," she testified. "I was forcefully dragged behind an abandoned house."
The girl, who was 14 at the time and who recently turned 15, said she tried to get away, but couldn't.
Once at the abandoned house, the trio pushed her to the ground, threw her around until she was lying on her back, and Richardson pulled down her pants and underwear, she testified.
She said Mercedes held down her arms as Richardson raped her and again as Miller raped her. Then Mercedes raped her, she said.
The girl testified that Mercedes held the gun in his hand as the other two raped her, then gave the gun to Miller to hold while Mercedes raped her.
She said she was bleeding afterward, and that the trio helped put her clothes back on.
'They said they'd hurt me': Perhaps five minutes later, a maroon SUV pulled up, she said.
"I was forced to get in," she said, and the trio then threatened her while they were inside the SUV. "They were threatening me, telling me not to tell anyone. They said they'd hurt me."
After a short drive, she was pushed out of the SUV and fell to the ground as it drove off, she testified. The girl was unable to describe the driver.
She testified a nearby woman let her call her grandmother on the woman's cellphone and said her aunt then picked her up and drove her straight to the hospital.
Defense attorney Chris Ferro, who represents Mercedes, said he believes the case against all three young men will end up at trial.
More:Police: Armed teens raped girl they lured from York Fair
"I think these boys are innocent, and there's nothing I heard today ... that changes that opinion," Ferro said. "My client, in my opinion, committed no crime. ... Whatever occurred, it wasn't a crime."
Attorney Marc Roberts, who represents Miller, and attorney Lee Cohen, who represents Richardson, said their clients maintain their innocence. They declined further comment.
Bowser, the prosecutor, said there are no ongoing plea negotiations with the three defendants.
— Reach Liz Evans Scolforo at levans@yorkdispatch.com or on Twitter at @LizScolforoYD.