Probation for Md. man who hid 16-year-old runaway

Liz Evans Scolforo
York Dispatch
A Maryland man has avoided prison for helping a 16-year-old Hanover-area runaway hide from her parents over a six-day period.
Richard J. Hood Jr., 24, pleaded guilty in York County Court on Wednesday, Dec. 6, to concealing the whereabouts of a child. The offense is a third-degree felony.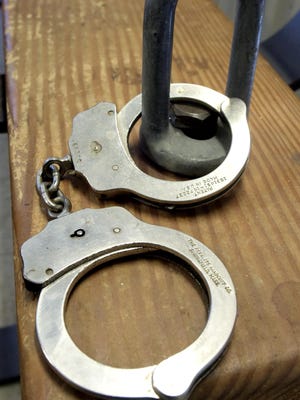 As part of a negotiated plea agreement, he was sentenced to five years' probation and was ordered to pay court costs and have no contact with Madison Krumrine.
Deputy prosecutor Alissa Cardenas said there were no allegations of sexual contact between Hood and Madison — a statement echoed by Hood's defense attorney, Justin Elsworthy.
"My client had no bad intentions. He thought he was helping a friend in a bad situation," Elsworthy said. "He thought he was doing the right thing ... based on all the information he had at that time."
The background: West Manheim Township Police said Hood hid Madison from the night of March 23 until March 28, when she was found at his Jennifer Drive home in Mechanicsville, which is located in St. Mary's County.
Madison was find in Hood's home during a police search. She spent about two hours hiding under a pile of clothing before giving up and letting police know she was there, according to Cardenas.
Madison's father, Keith Krumrine, called police March 24 to report his daughter missing, saying he'd last seen her the night of March 23, police said.
The teen had left a note in her room that read, in part, "I'm running away — I'm sorry — I'll be OK," according to documents, which state Madison had run away in January but was quickly found by police. She'd left behind her cellphone in her bedroom.
Investigators learned that Madison had been communicating with Hood in January via the internet and that she told Hood she was 18 years old, documents state.
Keith Krumrine called Hood when he learned of the communication and informed him of Madison's age and warned Hood to stay away from her, police said.
Instead, Hood took Madison to Maryland on March 3, police said — about three weeks before she ran away. But she returned home on her own.
After Madison ran away, her father called Hood on March 24 and demanded to know her whereabouts, telling Hood police were going to his home. But Hood denied knowing where Madison was, documents state.
More:Attorney says his client was trying to help runaway Madison
More:Police wary of using social media in missing-persons cases
First search: The same day, sheriff's deputies in St. Mary's County searched Hood's home but didn't find Madison, police said.
West Manheim Township investigators called Hood on March 25 and repeatedly told him he would be arrested if he was hiding Madison, but Hood again insisted he didn't know where she was, according to documents.
Members of the U.S. Marshals Service searched Hood's home again on March 28 and found Madison's Bible, but Hood still denied knowing where she was, according to police.
"At no time during the three hours plus (that) marshals were at the defendant's residence did he reveal (Madison) was there, nor did (Madison) seek assistance or reveal her presence," documents state.
Found hiding: Marshals searched the home again the same day, which is when they found Madison hiding under a pile of clothing in Hood's bedroom, according to charging documents.
She had cut and colored her hair using hair dye bought by Hood, according to police, who also said Hood bought the teen a prepaid cellphone she could use to communicate with him.
Hood picked up Madison the night of March 23 after she slipped out of her home, according to police.
More:Still no sign of missing Hanover teen
After she was found, Madison told authorities she voluntarily left home and had previously lied to her parents about her whereabouts so she could secretly meet with Hood, documents state.
While Madison was missing, hundreds of community volunteers searched West Manheim Township on foot in an effort to find her.
At the time, Keith Krumrine told the media it was as if his daughter "disappeared off the face of the earth."
— Reach Liz Evans Scolforo at levans@yorkdispatch.com or on Twitter at @LizScolforoYD.