Please. Hammers don't hurt him

Liz Evans Scolforo
York Dispatch
Three men riding through York City in an SUV this weekend decided after exchanging words with Cory Thoman that it was hammer time.
They jumped out and attacked Thoman with hammers, according to charging documents filed by York City Police.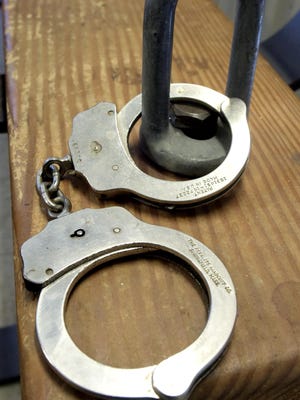 It happened about 10:45 p.m. Sunday, Oct. 29, in the 200 block of North Queen Street, police said.
Thoman, 38, exchanged words with the carload of men about them splashing him with rainwater from a puddle as they drove past, according to Capt. Troy Bankert, who supervises the York City detective bureau.
Alexander Olivo-Figueroa, Angel Olivo-Lopez and Eddie Ortiz-Rivera all wielded hammers as they attacked Thoman, charging documents allege.
But Thoman was able to dodge their hammer blows and stabbed Olivo-Figueroa in the side or back, documents state.
The hammer crew jumped back into their SUV and drove to York Hospital so Olivo-Figueroa could be treated, according to police.
3 hammers found: Officers recovered three hammers from inside the trio's SUV while it was parked at the hospital, documents state.
Olivo-Figueroa's condition could not be obtained from York Hospital on Monday, Oct. 30, but Bankert said he is expected to survive his wound.
Charging documents for Olivo-Figueroa weren't available Monday.
His co-defendants — Olivo-Lopez, 31, of the 800 block of East Poplar Street, and Ortiz-Rivera, 24, of South 21st Street in Harrisburg — remain in York County Prison on $50,000 bail each, charged with conspiracy to commit aggravated assault.
Thoman wasn't charged, according to Bankert.
A fourth person in the SUV is a juvenile and wasn't charged, the captain said.
No other arrests are expected, he said.
— Reach Liz Evans Scolforo at levans@yorkdispatch.com or on Twitter at @LizScolforoYD.